17 July 2008 Edition
INTERNATIONAL : Ministry of Defence pay-out to abused prisoners in Iraq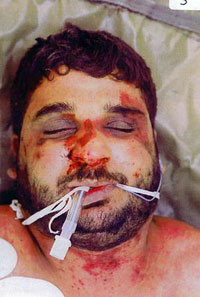 British Government responsible for murder, torture and sexual abuse
BY EMMA CLANCY
THE British Ministry of Defence (MoD) has agreed to a pay-out of £2.83 million to ten Iraqi victims tortured in custody by British soldiers in Basra in 2003.
Most of the money will go to the family and orphaned children of Baha Mousa, a 26-year-old man who was beaten to death by Queen's Lancashire Regiment soldiers in September 2003.
Mousa, a receptionist at Basra's Ibn al-Haitham Hotel, was arrested with colleagues during a weapons raid at his workplace. Mousa suffered 93 injuries during his 36 hours in custody, including a broken nose and fractured ribs. He was double-hooded with hessian sacks in stifling-hot temperatures and died as a result of asphyxiation caused by the stress position he was forced to maintain by his captors.
As well as severe beatings, the ten victims were all subjected to the infamous and outlawed 'five techniques' that were honed to perfection by the British Army during their torture and interrogation of Irish republican prisoners in the early 1970s – hooding, stress positions, subjection to noise, and deprivation of sleep, food and drink.

CHILD ABUSED
Immediately following this MoD settlement (on 10 July), further revelations of British abuse of Iraqi prisoners came to light on 13 July when 11 Iraqi torture victims launched court action. Among the 11 is a young man, now aged 19, who alleges that he was sexually abused in custody in 2003 when he was only 14 years old.
The man, who is identified only as 'Hassan', was kicked, beaten with a car aerial, stripped naked and then forced to perform oral sex on another boy at the British Army's Camp Breadbasket, near Basra.
They had been seized with other youths by British forces when they had tried to steal powdered milk from the base to sell on the black market.
In his statement describing the ordeal, Hassan says:
"They were enjoying humiliating and abusing us. I wished I was dead at this moment."
Since the experience, he said:
"I fled Basra altogether as I cannot see Tariq again after what had happened despite the fact that we were close friends."
In May this year, the British Defence Secretary finally agreed to hold a public inquiry into the death in custody of Baha Mousa. Phil Shiner of Public Interest Lawyers, who represents both Mousa's family and Hassan, has demanded that the inquiry be expanded to cover the Camp Breadbasket abuse.

NO ABERRATION
While the appalling treatment of Iraqi prisoners at the hands of the US occupation forces is widely known, through the widespread publication of photos from Abu Ghraib prison in 2004, the British military has tried to maintain a more positive, humane image as distinct from its American counterpart.
With its public relations office in damage control during a spectacularly bad week for the reputation of the British Army, an MoD spokesperson said:
"All but a handful of the more than 120,000 British troops who have served in Iraq have conducted themselves to the highest standards of behaviour, displaying integrity and selfless commitment.
"All allegations of abuse are investigated thoroughly and – where proven – those responsible are punished and the abused are compensated."
But the limited amount of evidence that has come to light regarding the treatment of prisoners by British forces in Iraq proves that these cases are no aberration. They are the inevitable outcome of institutionalised prisoner abuse by soldiers which is, in turn, based on the official policy and colonial mindset of the British Government and military.

CATALOGUE OF ATROCITIES
It was only in 2007 that the British Government ruled that the Human Rights Act covering British citizens also applies to those being held in British custody overseas. In addition to the cases above, action is now ongoing in English courts over several cases of murder, torture and sexual abuse of Iraqis by British soldiers. These include the following.
•    The most serious claim yet being pursued is by five survivors of a May 2004 incident in which 20 Iraqi civilian prisoners were allegedly executed at a British Army base in Abu Naji.
•    During 'Operation Ali Baba', aimed at capturing looters in May 2003, British soldiers suspended prisoners in nets from forklift trucks, and forced prisoners to strip naked and simulate sex. Photos were later uncovered of the abuse and four soldiers were jailed for up to two years following a court martial in 2005. Hassan is among those now suing the MoD for damages.
•    Fifteen-year-old Ahmer Jabbar Kareem was drowned while being forced to swim a canal by British soldiers; Kareem's father and Ayad Salim Hanoon, a teenager who survived the ordeal, are taking action for damages.
•    Five Iraqis are pursuing damages over abuse and hooding in April 2007.
•    The Iraq League's Mazin Younis, who has gathered statements from survivors of abuse in Basra, now has more than 80 cases of allegations against British troops which will be taken to the European Court of Human Rights. Phil Shiner is himself involved in 46 cases against the British military in Iraq.

NATO POLICY
At the 2006 court martial prompted by Mousa's killing, one of seven soldiers from the Queen's Lancashire Regiment charged with negligence and abuse pleaded guilty to treating Mousa "inhumanely": he served one year in prison and is now running a business in England.
The other six soldiers charged, including the commanding officer of the regiment, were acquitted of all charges.
The court-martial's judge accused the soldiers of erecting a "wall of silence" surrounding the death in custody.
The evidence that emerged through the Mousa court-martial shows that interrogators were trained in stressing and hooding detainees – it was "verbal and written NATO policy". The court heard that the "conditioning" techniques were sanctioned by officers at brigade headquarters and they were cleared with the chain of command.
The US and British military both regularly used the 'five techniques' in interrogation as well as systematic sexual abuse and humiliation, designed with cultural sensitivities in mind: abuse specifically designed to psychologically torture Islamic prisoners by stripping them of their dignity and self-respect.

UNACCOUNTABLE
Phil Shiner explains:
"At the heart of the US and UK project is a desire to avoid accountability for what they want to do. Guantanamo Bay and extraordinary renditions are part of the same struggle to avoid accountability through jurisdiction."
He said the British Army practises the same torture techniques as the US Army does and denies that British and international human rights legislation applies to its soldiers.
An internal British Army investigation found in January this year that the soldiers involved in the Mousa detention "had not been informed of their obligations under international law" and "had not been told that the interrogation techniques set out in old army manuals were prohibited in 1972". Has the British Army really not printed a new interrogation manual for its soldiers in the past 36 years?
In reality, the MoD under former Prime Minister Tony Blair made the decision that the banned torture techniques were really only to be restricted from use in Britain and the North of Ireland and that they were free to use them in other countries where they're fighting colonial anti-insurgency wars.
The internal military report concluded that the soldiers needed a "better understanding of right and wrong".
There are currently more than 20,000 Iraqi prisoners in the custody of US/British occupation forces.