3 July 2008 Edition
INTERVIEW : The new Mayor of Belfast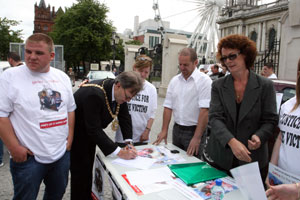 Tom Hartley – The Mayor and the Man
VETERAN republican TOM HARTLEY has just been elected Mayor of Belfast. ELLA O'DWYER took the trip up from Dublin to visit the new mayor in his Belfast offices, where he talked about his new role, his upbringing in Belfast and his life as a republican.
HAVING only met Tom Hartley very briefly once (at Brian Keenan's funeral), I was a little apprehensive about meeting the new mayor of Belfast. Republicans who had known him for more than 20 years regaled me with tales of a big, bellowing man who could reduce fragile young republicans in Dublin's An Phoblacht office to quivering wrecks, bursting through doors to roar, "Do you know who I am?!!!" before disappearing with a smile and laughing mischievously before going back, still chuckling, to explain it was only his idea of a joke.
The interview was at temporary offices at Clarendon Dock in the Old Harbour while City Hall is being refurbished.
The man at the reception desk said I'd probably get a half-hour with the mayor as he was so busy in his first week in office. I was ushered into the office of Belfast's 'First Citizen'.
Formalities first: "What do I call you now in your elevated position?"
"Tom," he grinned, looking chilled and at ease in the grand surrounding of his offices. Coffee and biscuits arrived and Tom gave an hour-long account of the road that saw the 'quiet' youngster become Belfast's First Citizen.
"I was quiet as a young person – the kind that nobody expects much of," he laughs.
Tom was born into a large family of ten children and raised in the Harrowgate area of the Falls.
"It was a two-up, two-down house and there wasn't a lot of money around. My mother was a housewife and my father a labourer with Belfast Corporation."
For a man with such a propensity to think very deeply, Tom thinks he never really acquired the tools to organise his thinking through formal education.
"I went to St Gall's Primary School and later to St Thomas's Secondary School. But I didn't like school – I hated it. I came out of school the same as I went in and left school altogether when I was 15." Hartley feels that the lack of a proper education leaves "a gap" in his life. "Not having an education meant I didn't have the instruments to put shape on my thoughts and when I was 15 I took a job as a messenger boy for about four years before going to London to work. But I was a home bird. I always saw myself as a Falls Road man and an Irishman and I came back to Belfast after about a year."
So what got the Mayor of Belfast involved in republicanism 40 years ago?
"I'm a product of the Catholic population of the North and when I was growing up there was a sense of the oppression that community suffered under unionist domination. It was a kind of a state within a state and there was the prevailing bad relations with the RUC. Politics was in the air and I was aware, for instance, of what was happening in places like South Africa."
But Hartley identifies a diversity and complexity to the political context in the North back then as now.
"There was also a kind of soft nationalism in sections of the family background on my father's side."
One of his brothers was active in the IRA in Belfast around 1919.
"My own family background reflects the complexity of politics. For instance, while one of my father's brothers was in the IRA, another one was in the British Army and another in the Free State Army. My grandfather on my mother's side was also a British soldier, whom I think fought in the Boer War.
"In 1969, I got involved in the struggle. In 1971, I was sentenced for riotous behaviour along with a man called Jimmy Quigley who was shot in 1972.  I got ten months in Crumlin Road Jail."
Tom had gate fever from the hour he went into jail.
"I hated jail: I hated the smell, I hated the boredom, I hated being told what to do, and I simply hated being locked up. You hear people talk about the Kesh as being 'the University of Life'. I don't accept that. The university of life is life – living one's life – and not in jail. At that time there weren't many political prisoners in the jail but, of course, I was encountering social prisoners – people who were in jail for petty offences like shoplifting or stealing small amounts of money. I never met any rich people in jail and as far as I can see jail never did any good. It just saps the soul."
Tom Hartley established the first Republican Press Centre in Belfast in 1973 at 107a Falls Road. It was a busy premises with IRA statements issued to the media through a telex machine. Hartley recalls it as a hectic time.
"With the truce in 1975 between the IRA and the British Army, the office doubled as what was known as a 'truce incident centre', where reported breaches of the truce were logged.
"That ten-month truce muddied the waters and caused uncertainty. There was speculation about possible British disengagement but in fact the Brits were digging in. The policies of Ulsterisation, normalisation and criminalisation were being rolled out and the Sinn Féin office in Belfast and the Press Centre were subjected to raids throughout 1977 and 1978. These raids were part of the criminalisation strategy."
During the 1970s, the offices of Republican News and the Republican Press Centre were the targets of raids and arrests by the British Army and, in 1978, Hartley and a number of others, including the printer of Republican News was again arrested and charged with attempting to 'undermine the Government'. The charges were later dropped but not before Hartley had spent another five months in Crumlin Road Jail on remand. These raids he puts down to Britain's criminalisation policy and their attempt to stifle the voice of republicanism as the publicity issued from the Republican Movement posed a threat to the Brits.
"We presented a target for the Brits at a time when the sinews of republicanism were developing at many levels."
The publicity organs of the Movement were exposing the atrocious treatment meted out to republican prisoners as part of the Brits' attempt to criminalise the POWs. A side-effect which Hartley identifies as emerging from such arrests was the exposure that key members of the Movement were experiencing which had inadvertent positives.
"The arrests meant that we were known to the public which got us out from the shadows and into openly working with the community which had its own positive effects."
During the prison protests of the 1980s, as head of the Sinn Féin POW Department, Tom Hartley was key to the establishment of a very effective communications system between the jails and the outside.

"In 1976, Kieran Nugent's mother approached us to ask us to locate her son, whose whereabouts in the H-Blocks was unknown to her or her family. 'He's disappeared,' she said, and it made us think that we needed to establish some kind of communications system with the prisoners and so the process of exchanging concealed communications (or 'comms') between the prisoners and their visitors was put in place.
"In fact, we were beginning to think more strategically on all fronts. We realised that we needed to broaden our base. For instance there might be people who would not want to support the armed struggle but they might want to support the prisoners so we set up the Relatives' Action Committee."
Tom Hartley was one of those in the Movement who early on identified the need for a more flexible approach to the republican struggle.
"We began to see the need for a more flexible politic. Flexibility allows one to get out of a rut and sustain development. My political development was partly shaped by the likes of Jim Gibney, Ted Howell, Danny Morrison and Gerry Adams. We would discuss things  – they had a nose for the politics in very challenging times. It was important to be able to change when change was required. For instance, we moved from not recognising the courts and then changed the policy of abstention to taking seats in the Dáil in 1986.
For Tom Hartley, as for many republicans, such change caused personal tensions of their own but the changes brought results.
"With the Hume/Adams talks of the 1980s we were able to bring the SDLP to take responsibility in relation to the important political issues affecting the North. Then Albert Reynolds came on board and later the Irish-American lobby and Bill Clinton. But tension is inherent to political development. Things remain static for a period and then pressure emerges and with it development."
Over the years, Tom went on to hold various high-profile positions within Sinn Féin, including party chair and general secretary. He was elected as councillor to represent the Lower Falls electoral area in May 1993 and was re-elected in May 1997, June 2001 and May 2005. He also sat on and chaired various committees and sub-committees, including the Policy and Resources Committee and Development Committee. He is deputy chair of the Tourism and Promotion of Belfast sub-committee in addition to others. As mayor of his city I asked him how he intended to engage with unionists.
"I want to show them that we are a progressive, democratic party. I want to see how we can construct an Ireland that is diverse. Dealing with unionism is a challenge but we have to talk to and engage with them – hear what they are saying and converse with them.
"The circumstances of today give us the opportunity to reflect generosity and to show them who we are. I would not like to see an Ireland without them. I want to reach out deep into all of Belfast society to open Belfast City Council to all of its people."
Reflecting back on the complexities and diversity that have impacted on his life since childhood, he says:
"In politics, one is dealing with complexities. I remember attending a day of remembrance for those who died in the First World War in 2006 at Islandbridge in Dublin. Many of our own people had difficulties with that but I believe our identities are multi-dimensional. It's all part of the complexity of what we are and the mayor's role allows one to reach out to the rich strains, to what we are."
Hartley is the author of Written in Stone – A History of Belfast City Cemetery. I asked him what, other than writing and politics, grabs him.
"Well I'm good at making Bodhráns," he says, adding mischievously and laughing, "In fact, I'm probably the best."
I asked him about his devious sense of humour which is part of republican folklore in Dublin. To this day, more than 20 years later, An Phoblacht's top lay-out man still hasn't forgiven Tom Hartley for promising him a bottle of whiskey in return for a quick turnaround on a publication job and not turning up with the goods. Looking ever so pleased, Tom muses, his eyes glinting without a hint of embarrassment:
"Yes, I remember that, and on one of Adams's election campaigns I promised all the canvassers that I'd buy them a pint each in the Felons if they got him elected. When Gerry won the seat I brought in one pint with about 400 straws in it. I've an awful sense of humour  – people never know when I'm joking."
So the quiet boy who nobody expected much of became the First Citizen of Belfast. And is he inspired by the mayoral role so far?
"I'm inspired every day by people I meet, people who work voluntarily for the welfare of their communities: kids, teachers and I've even met one-armed golfers."
Tom is well-known for cycling everywhere, including to work. While we were on the subject of physical pursuits I ask him if he's parked the bike for good now that he has that other chain to ferry around.
"No I still cycle, I've always enjoyed cycling . Where are you off to after this?"
"I'm for the railway station."
"Do you want a lift?"
"No, you're grand," I reply, with visions in my mind of myself hurtling down the Falls on the crossbar of Hartley's pushbike.
The interview over, the new Mayor of Belfast presented me with a lovely silver ornament with the Belfast City Council crest inscribed on it before he bade me a warm farewell with a genuine smile. It had been a pleasure. Eat your hearts out, ye Dublin detractors. The man's a gent.