3 July 2008 Edition
British collusion in Donegal killing confirmed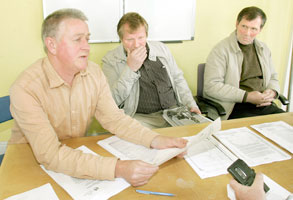 BY LAURA FRIEL
THERE was British collusion in the murder of a Donegal teenager in 1973, according to the latest probe into the killing of Henry Cunningham carried out by the PSNI's Historical Enquires Team (HET). The 16-year-old, from Carndonagh, was shot dead as he travelled back to Donegal from a Belfast building site on 9 August 1973.
The HET confirmed that one of the guns used in the killing was 'stolen' from a British Territorial Army base in Lurgan in 1972. The report also cited evidence of collusion in the 'theft' of the weapon. The HET reviews existing evidence rather than carries out further investigation.
An earlier British Army investigation admitted that there was "strong evidence" of collusion between its own Ulster Defence Regiment and loyalist paramilitaries in relation to 'missing' weapons from the UDR barracks.
The UDR Sterling submachine gun was subsequently used in the sectarian murder of two Catholic workmen in 1974. This weapon was retrieved by the RUC later that year but, despite being at the centre of a number of sectarian killings, it was destroyed by RUC officers in 1976.
The HET also admitted that two men were arrested in connection with the Cunningham murder in May 1978 but were released without charge. Both were members of the UVF and one was a senior member of the UVF.
The report admits: "There were high level concerns regarding RUC elements too close to the UVF and too ready to hand over information." The HET also cites "worries that loyalist extremists had heavily infiltrated the UDR".

Declassified documents reveal that loyalist paramilitaries were routinely armed with weaponry emanating from the UDR. The report describes the arming of loyalists by the UDR as "a common theme across many HET reviews".
The teenager was travelling in a van when they were attacked from a bridge on the M2 at Dunsily, between Templepatrick and Antrim. Henry was in the front passenger seat of the vehicle containing another five workmen, Protestant and Catholic.
Three of the men were brothers of Henry and another was a brother-in-law. The Cunningham family were Protestant but they believe they were targeted by the UVF because of the Southern Irish number plates on their Bedford van.
The men had been travelling along the same route during the two months they had been working in Glengormley, on the outskirts of north Belfast.
Curiously, the inquest into the teenager's death was carried out less than a month after the killing. An inquest can only be held after investigations are complete and that process usually takes months, sometimes years.
The van driver told the inquest that he had spotted three men acting suspiciously on the bridge and then heard gunfire. The windscreen had shattered and a punctured tyre forced the vehicle to stop. Around 14 shots were fired into the vehicle, one at least hitting Henry in the chest.
Cartridges from the scene indicated that a submachine gun had been fired by one of the gunmen while the other two used pistols.
Denied any further information about the murder of their brother, Robert and Herbert Cunningham sought assistance from the Pat Finucane Centre in 1999. The case was subsequently taken up by the HET.
Speaking after receiving the report, brothers Robert and Herbert Cunningham expressed anger at the fact that the evidence presented by the HET had been known but never made available to the victim's family. They also criticise the Irish Government.
"There is no evidence whatsoever that our government in Dublin made any representation to the Northern authorities in relation to the murder of Henry," said Robert.
"Neither the gardaí nor the Department of the Taoiseach, Justice or Foreign Affairs have been able to produce a single document pertaining to the murder of my brother, an Irish citizen."