3 July 2008 Edition
Devolution of policing and justice needs to happen quickly - McGuinness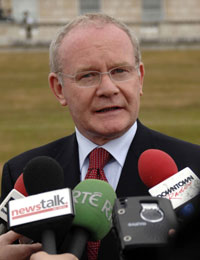 SINN FÉIN deputy First Minister Martin McGuinness has said that the devolution of policing and justice powers to the North's Assembly has to happen and happen quickly. McGuinness' remarks came after DUP leader and First Minister in the North's Executive Peter Robinson spoke on the on the issue on Monday.
At a legal conference in Belfast, Robinson said he is "committed and willing to intensify discussions with the deputy First Minister and others in the period ahead".
"It is a matter of public record that in recent weeks I have discussed these important matters with the deputy First Minister at some length and I also met and indicated to other party leaders that I want to examine these issues with them as well," said Robinson.
He went on: "I expect I need hardly say that agreement on a way forward has not yet been reached but, for myself, while I cannot be certain, I am not gloomy about the prospects of reaching an agreement which could command the confidence of everyone.
"I will not attempt to characterise anyone else's position but I can say that there is a growing understanding of all the concerns that attend this debate, including those I have articulated, and a serious engagement is under way on how to resolve those concerns.
"I need not tell this audience that when dealing with such sensitive matters we must at all times remember we are dealing with the safety, security and well-being of everyone who lives here.
"We will tread carefully and only proceed when the community has the confidence to make progress. But at the same time we recognise that we have a responsibility to exert ourselves in order to identify safe structures which can create the conditions where this confidence will exist," he added.
CONTRADICTION
Robinson's remarks appear to contradict previous pronouncements on the issue by prominent DUP figures such as Nigel Dodds who said relatively recently that the devolution of policing and justice powers would not happen in a "political lifetime".
Responding on Monday to Robinson's remarks, Martin McGuinness said:
"While Mr Robinson's comments are fair enough as far as they go the reality remains that this issue should have been resolved by May under the terms of the St. Andrews Agreement and the DUP and the governments are already in default", McGuinness said.
"There is an onus on the two governments and all of the parties who were part of St. Andrews to deliver on it.
"We are involved in discussions with the DUP and we have agreed that these will intensify in the short time ahead.
"The transfer of powers on policing and justice is not an optional extra – it is a commitment which needs to happen and needs to happen quickly', said McGuinness.