19 June 2008 Edition
Sinn Féin mayors for County Monaghan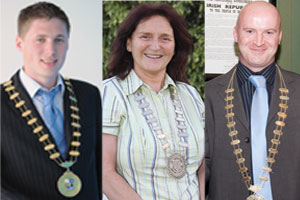 THIRTY-year-old Sinn Féin Councillor Matt Carthy was unanimously elected Méara Chontae Mhuineacháin at the AGM of Monaghan County Council on Monday. Sinn Féin Councillors Rose McMahon and Niall Quigley have been elected to the chairs of Carrickmacross and Clones Town councils respectively.
Councillor Carthy has been an elected representative since 1999 when he was first elected to Carrickmacross Town Council. He was re-elected to that authority and elected for the first time to Monaghan County Council in the local elections of 2004, topping the poll for the South Monaghan district.
Describing himself as a proud Irish republican councillor, Carthy set out a detailed plan of work for the year ahead. He said that his priorities include supporting the communities in County Monaghan and neighbouring counties of Armagh, Cavan, Meath and Tyrone in their campaign against the proposals of Eirgrid and NIE to impose overhead high-voltage power lines throughout the region, as well as the retention and development of services at Monaghan General Hospital.
Councillor Carthy also said he will be leading the demand for a public swimming pool and ancillary facilities for the town of Carrickmacross. Speaking after his election, Councillor Carthy said:  
"Táim ag tnúth go mór lena bheith ag obair lena comhairleoirí go léir, chomh maith le foireann an Chomhairle Chontae, chun saol na ndaoine i gContae Mhúineacháín a fheabhsú.
"County Monaghan faces many challenges and Monaghan County Council must be capable of meeting them. We have an excellent staff at all levels within the council.
"As Méara Chontae Mhuineacháin, I fully endorse the campaign of local communities in these counties against the Eirgrid/ NIE proposals and I fully support the demand that these power lines be under-grounded.
"Likewise I record my wholehearted and unambiguous support for the campaign to restore, retain and develop services at Monaghan General Hospital.
"I will seek, and I hope I can be assured of, the full support from every political quarter to highlight this issue at every opportunity and to persuade both the Government and the Health Service Executive of the consequences of their health policies."
COMMUNITY GROUPS
Councillor Carthy called for progress on infrastructural developments, including major road projects, the Ulster Canal and extending the rail network to the county. He commended local community groups, including those involved with all cross-border and all-Ireland structures. He concluded:
"It will come as no surprise to any of you that I am a proud Irish republican. It is a central part of what I am, and the aspirations of Irish republicanism guide me each and every day in all that I do. I am proud to represent Sinn Féin on this local authority and in my local community. I am a believer in a united Ireland and I believe that everyone, regardless of political persuasion, has a role to play in achieving that noble objective."
CARRICKMACROSS
Sinn Féin Councillor Rose McMahon was elected as Méara an Bhaile of Carrickmacross on 9 June by six votes to three.
She said:
"Our priorities include the absolute need for the town council and the county council to purchase and build significant numbers of houses for the many deserving families on our waiting list.
"My number one priority for the coming year will be to strengthen the relationship between this council and the elderly community. Some people have gone to great lengths to provide support and security for our older neighbours and I intend to offer my full support to their work."
CLONES
Councillor Niall Quigley was elected Cathaoirleach of Clones Town Council on Monday. He is one of three Sinn Féin members of the council in the border town.
Cavan/Monaghan TD and Sinn Féin Dáil leader Caoimhghín Ó Caoláin congratulated his three elected colleagues who take up their respective offices in the final year before the 2009 local government elections.
Deputy Ó Caoláin also recorded a strong 'well done' to outgoing Cathaoirligh Padraigín Uí Mhurchadha (Monaghan Town Council) and Jackie Crowe (Castleblayney Town Council).