19 June 2008 Edition
Assembly must act on report to end child poverty scandal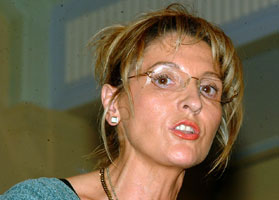 A MAJOR REPORT released this week has the potential to eradicate the scandal of child poverty in the North if its release leads to real action, Foyle Sinn Féin MLA Martina Anderson said at its launch on Tuesday.
The inquiry was conducted by the Committee of the Office of the First and deputy First Minister and the Assembly will be asked to endorse their findings and produce a detailed action plan.
Anderson, the party's Assembly spokesperson on Equality and Human Rights, said:
"This report contains many recommendations which, if implemented, could go a long way towards eliminating the scandalous level of child poverty in the North of Ireland.
"Many issues are addressed such as benefits, tax credits, affordable childcare, social housing and fuel poverty.
"The Executive is already committed to eradicating child poverty by 2020 and I believe the recommendations in this report can point the way towards achieving that very worthwhile objective.
"Unfortunately, there are some areas which we will have little control over – particularly the benefits system – which reaffirms the need for more powers to be devolved away from British ministers and into the hands of Irish people who genuinely care about the constituents they represent."
FUEL POVERTY
Martina Anderson said that all options need to be considered in facing rising fuel costs, including additional payments and special tariffs for vulnerable groups and low-income households.
"I am confident that this report will win the overwhelming support of all parties in the Assembly because child poverty is something which affects every constituency.
"It doesn't matter whether you represent the Bogside or Ballysillan, a hungry child is a hungry child and that is something which should unite us all."