19 June 2008 Edition
Lisbon Treaty rejection : How the numbers stacked up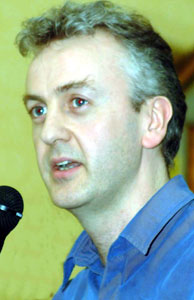 Referendum result uncovers deep voter divisions
BY ROBBIE SMYTH

WITHIN an hour of the first ballot boxes being opened, party officials across the political spectrum were calling the referendum as a 'No' to the Lisbon Treaty. The earliest tallies showed that the 'No' vote had swung the day despite a high turn-out, which would have been seen traditionally as a boost for the 'Yes' side in any referendum.
Now, as we mull over the full count of the 43 constituencies, it seems that not only was history being made in count centres across the 26 Counties last weekend but the voting behaviour of Irish political society was registering a seismic shift. The question is whether the shift in voting allegiances and turn-out is a one-off spike or is it a broader realignment emerging in voter behaviour.
But first, the basic stats of the historic victory for the 'No' campaign...
Turn-out was 53.1 per cent, higher than the second Nice referendum of 2002, which came in at 49.5 per cent and nearly 20 per cent higher than the 2001 Nice vote which saw only 34 per cent of voters cast ballots.
Historically, turn-out in 26-County referendums has not been that high, the largest poll being the first vote on the 1937 Constitution which had a turn-out of 75.8 per cent, and a low of 28.6 per cent in 1979 in a vote on adoption rights.
The first Nice Treaty vote in 2001 had only two constituencies voting 'Yes' (Dublin South and Dun Laoghaire). In the second Nice poll, in October 2002, turn-out increased to 49.47 per cent and every constituency recorded a 'Yes' vote.
However, Dublin South and Dun Laoghaire recorded yes votes of 72 per cent and 73 per cent respectively in the 2002 poll, so the voting behaviour of these two constituencies was key to monitoring shifts in voter behaviour this time around.
Last week, Dublin South and Dun Laoghaire again recorded a 'Yes' vote, coming in at 62.9 per cent and 63.5 per cent respectively. As was the case in 2001 and 2002, these were the highest percentage 'Yes' votes in the 26 Counties.
Unlike 2001, there were seven other constituencies voting 'Yes': Clare, Dublin North, Dublin North Central, Dublin South-East, Kildare North, Laois Offaly and Meath East. The margins in favour of 'Yes' ranged from 50.6 per cent in Dublin North and North
Central to 63.5 per cent in Dun Laoghaire.
Then there are the 'No' votes. Dublin South-West pips Donegal South-West for the highest 'No' vote. In Dublin South-West, the 'No' vote was 65.1 per cent, compared to 64.7 per cent for Donegal North-East and 64.4 per cent in Cork North Central. Other constituencies coming in with 'No' votes above the 60 per cent mark were Donegal South-West (63.4 per cent), Dublin Mid-West (60.4), Dublin North-West (63.6), and Mayo (61.7).
The highest turn-out in the 43 constituencies was Wicklow (60.8 per cent) and a near split vote with 50.2 per cent voting 'No' to 49.8 per cent 'Yes'. Carlow/Kilkenny was the closest constituency with a 50/50 voting split.
Regionally, there were noteworthy voting patterns. Across the 26 Counties there was 6.8 per cent majority for 'No'. In Dublin, the majority of 'No' votes was just 2 per cent, 2.4 per cent in the rest of Leinster, rising to 10.2 per cent for Munster, 12.4 per cent in Connacht, and a substantial 19.2 per cent majority for a 'No' vote in Donegal, Cavan and Monaghan.
The total 'No' vote has shifted significantly since the 2001 and 2002 Nice Treaty polls. In 2001, the 'No' vote of 529,478 swung the day, while in the referendum re-run in October 2002, the 'No' vote stood virtually still at 534,887, even though turn-out jumped massively.
The simplest conclusion to the 2001 and 2002 polls is that 'No' voters had more conviction than the 'Yes' camp who had a tendency to stay at home. However, no 'Yes' voters were swayed in the second Nice referendum to move to a 'No'. In Lisbon, the 'No' vote jumped with turn-out to 862,415 votes, so over nearly six years more than 300,000 voters came to the 'No' side.
The 'Yes' vote in 2001 was 436,461, rising to 906,317 in 2002 and falling to 752,451 last week, so the referendum shows a clear shift in voter preferences.
One explanation of this is to look at the geographic spread of votes.
In 2002, many rural constituencies were clearly supportive of Nice. For example, Carlow/Kilkenny has a 66.9 per cent 'Yes' vote in 2002, Clare 68.4 per cent, and Cork North-West 64.2 per cent. In fact, the vote change for the four Cork constituencies is significant, with the greatest fall registered in Cork North Central, where the 'Yes' vote fell from 55 per cent in 2002 to 35.6 per cent in 2008, a total fall of 35 per cent, a sizeable vote shift in any language.
When you look more closely at the constituency-based 'Yes' vote, excepting Clare, all of the 'Yes' majorities were in the east and five of the nine constituencies voting 'Yes' were in Dublin, while Meath East and Kildare South are contiguous commuter belt towns.
Most interesting of the Dublin constituencies was what could be perceived as an income or social class split between the wealthier, suburban constituencies and the more diverse Dublin north and west constituencies where there is a greater mix of income, property and social class. It would seem that the lower-income regions were less convinced by the case for 'Yes' than the well-heeled areas and, with the exception of Clare, the further away you got from Dublin, the greater the 'No' vote.