19 June 2008 Edition
Matt Treacy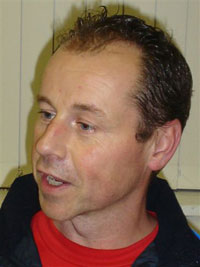 Getting past the pike men
CIARA decided that a birthday party for one of her chums would be more fun than going to see the Dublin hurlers – as if! (I really am watching too much Nickelodeon these days.)
"Are they playing the Bees, Dad?" (The Bees being the Cats since she first saw them a few years ago when Dublin beat them in the Walsh Cup final.) "Because they never beat the Bees." (How quickly she forgets our glorious victory!)
"No, Wexford."
"They never beat them either." Jaysus, enough already! Like I need to be reminded of all this. Crushed beyond repair before I even set out, all optimistic and happy. Maybe we should swap places. Ciara can be the world-weary cynic and I the innocent naïf.
Anyway, it didn't deter me and off we went on Friday to Wexford to see how the foe was shaping up for Saturday. As if to put us on guard that they were not about to go down easily, we passed strategically-placed pike men and other memorials of 1798. And to add to it, Luke was on the CD singing Kelly, The Boy from Killane.
When I was a child I used to think the verse contained the lines:
"Tell me who is that giant with gold curling hair, he who rides at the head of your band?" was it about Tony Doran!
Doran (for those of us who never saw Nicky Rackard) was the archetypal Wexford full-forward. The big bear of a man with the paw reaching towards the sky to grab the sliothar amidst a forest of ash. It is a model they have strived after ever since. Billy Byrne perhaps coming closest in recent times to the legendary saviour who could get the killer goal when it was needed.


ON SATURDAY, Stephen Banville looked well set to add his name to the illustrious roll with an early goal against the run of play which was added to by Eoin Quigley moments later seemed to have taken the sting out of Dublin's early assault.
In fairness to the Dublin backs, however, they recovered from that early disaster and conceded no more goals and just one point from a free for the rest of the half. Instead of panicking, as they might have done in the past, Dublin feigned almost to pretend that the goals had never happened and tacked on point after point to lead by the odd looking 0-11 to 2-1 at half time. It could just as easily have been 2-11 to 2-1, had not John Kelly and James Burke missed what appeared to be gilt-edged chances – but it's easy to hurl from the stand.
Wexford again started the second half well and closed the gap but Dublin always seemed to be able to keep their noses in front until the dying minutes when Eoin Quigley equalised. Dublin still came looking for the winner but it would have been a whole lot worse had Diarmuid Lyng not dropped short a free which would have stolen victory for Wexford.
If reaction at the final whistle was anything to go by, it was Wexford, despite the missed free, who looked the happier. The body language of Dublin players told a different story. It was a match they knew they could have won. The general consensus is usually that the team that comes from behind will have the momentum the next day. That makes common sense: you've already faced the worst scenario of defeat and pulled back from the abyss. That in itself ought to lessen the fear factor and lead to a more uninhibited approach.
That, however, is to overlook the factors which put you in a losing position in the first place: that you were outplayed for most of the game.
Last Saturday, Dublin outplayed Wexford for most of the 70 minutes and shot 19 wides while scoring 19 points, 15 from play. If they can cut down on the misses and maybe get a goal they will win easily.
The consensus among Wexford people is that they won't play as badly again. Sometimes you only play as well as you are let. Anyway, we will see on Sunday.


THE biggest surprise of the weekend – although not to yours truly who tipped Down at 15/8     – was Tyrone's exit from the Ulster championship in Newry.
As alluded to last week, Tyrone seem to be getting dragged into attritional affairs that are costly in terms of injuries and stamina. Two or three years ago they thrived on such fare. Now they tend more often than not to lose out. Difficult to see them recovering in time to advance much further in the qualifiers.
Saturday evening sees Fermanagh attempt to stop what many believe is Derry's momentum towards their first Ulster title since 1998. The most impressive aspect of Fermanagh's win over Monaghan was the tenaciousness and discipline of their backs.
Unfortunately, it appears that Barry Owens will not start. It would have been interesting to see how well he coped with Paddy Bradley. But even without the Teemore man, Fermanagh on a good running day could upset predictions.
Wexford take on Laois in the first Leinster football semi-final in a triple header sandwiched between their minor and seniors playing Dublin in the hurling semis. A Wexford win is the confident prediction here and hopefully it will be their only one of the day.
In Connacht, Mayo will probably beat Sligo, given the latter's disappointing year since becoming champions for the first time since 1975.
The other hurling action is at Thurles where there will be an interesting clash between Limerick and Clare. Limerick will be anxious to show that they have trained on since losing the All-Ireland last September while Clare will want to prove that their defeat of Waterford had more to do with their being good than any problems among the Déise. A close encounter but Richie Bennis's side to prevail.


Finally, as An Phoblacht goes to press, it was announced that Paul Galvin of Kerry had been suspended for six months for slapping Paddy Russell's notebook out of his hand last Sunday.
Let's be clear about this. There's no excuse for abusing referees. It is pointless and one of the most annoying things about the GAA, particularly when playing. So Galvin deserved to be sent off and deserved to be suspended – for a month. Anything more in my opinion is a gross over-reaction and one based not on what Galvin did, which was wrong, but on the media reaction.
As I said before, the way things are going the GAA will end up letting a Joe Duffy phone-in determine its disciplinary decisions. The man made a mistake. He apologised. Give him a month and let him play.
If it happened in any match not televised or covered in the newspapers that would have been the decision.
Time for some sense to prevail.