12 June 2008 Edition
Iris Robinson in police probe over anti-gay comments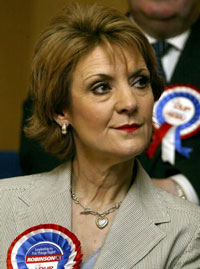 By Laura Friel
IRIS ROBINSON MP, wife of First Minister Peter Robinson, is being investigated by police after being reported for statements she made on live radio in the past week about people who are gay.
The DUP MP's comments literally added insult to injury, a very serious injury, in fact. Stephen Scott, a young gay man, had been walking home when he was set upon by a gang of gay-bashing thugs in Newtownabbey, County Antrim, last week.
The 27-year-old was knocked to the ground, repeatedly kicked and left for dead on the roadway. In the attack, Stephen suffered serious head and leg injuries, fractured ribs and a broken wrist.
Invited to comment on the attack on BBC Radio Ulster's The Stephen Nolan Show, Iris Robinson condemned the attack but went on to brand homosexuality as "an abomination" and urged gay people to seek a cure.
The PSNI has confirmed that it is now investigating complaints against Iris Robinson in relation to her second anti-gay outburst in a week.
Complaints have been lodged by Andrew Muir, vice-chair of Gay and Lesbian Across Down, and John O'Doherty, a member of South Belfast District Policing Partnership.
O'Doherty described Iris Robinson's comments as "amazing" and warned that such views could lead to further attacks against gay and lesbian people. "People like Mrs Robinson need to learn that their comments have consequences."
Speaking on Stephen Nolan's live radio programme last week, the Strangford MLA and MP described homosexuality as "disgusting, nauseous, shamefully wicked and vile", adding: "It's an abomination."
Iris Robinson is the elected MP and MLA for Strangford as well as maintaining a seat on Castlereagh District Council. She is also chair of Stormont's Health, Social Services and Public Safety Committee.
Just hours into his office as First Minister, Peter Robinson's appointment was immediately overshadowed by his wife and party colleague's remarks.
How far the newly-appointed First Minister shares his wife's views remains uncertain but, clearly, his present office demands Peter Robinson's full commitment to the inclusive vision of the Assembly and its commitment to equality and human rights.
This is not the first time Iris Robinson has condemned homosexuality as an "abomination" but she strongly denied her remarks could in any way result in anti-gay violence. Responding to criticism, she declared she would not be gagged "because someone gets attacked".
"Homosexuality is not natural. My Christian beliefs tell me that it is an abomination and that is very clear. It is an offence to God, an offensive act and something God abhors," said Robinson.
"I am clearly not saying that I want people to thrash the living daylights out of a homosexual," said Robinson.
Iris Robinson urged homosexual people to seek psychiatric counselling. She said that one of her health policy advisers, Dr Paul Miller, is working with homosexuals who are trying to become straight.
"I have a lovely psychiatrist who works with me in my office trying to turn homosexuals away from what they are engaged in. I'm happy to put any homosexuals in touch with this gentleman.
"I have met people who have turned around and become heterosexual. They are married and are having families."
Described by Iris Robinson as "a born-again Christian", Dr Miller is a consultant psychiatrist working in the Mater Hospital in Belfast. In an interview, the former member of the Royal College of Psychiatrists said he is trying to help "people who had a conflict between their religious identity and their sexual identity".
Dr Miller started 'helping' homosexuals to become heterosexual after a patient "struggling with his sexuality" died as a result of suicide. The doctor cited "evidence" from the USA that shows homosexuality can be cured.
In a statement issued by the Royal College of Psychiatrists, the organisation clarified that homosexuality is not a psychiatric disorder.
"We hold the view that lesbian, gay and bisexual people should be regarded as valued members of society who have exactly the same rights and responsibilities as others."
The Royal College pointed out that "experiences of discrimination in society and possible rejection" often lead to greater mental distress amongst gay people.
"Although there have been claims by conservative political groups in the USA that the higher prevalence of mental health difficulties is confirmation that homosexuality is itself a mental disorder, there is no evidence whatsoever to substantiate such a claim."
A representative of the Royal College, Dr Philip McGarry, disputed Mr Miller's views as " very unfortunate" and "old fashioned".
"I would be extremely dubious about someone's sexual orientation being reversed and would go so far to say there is no recognised professional psychiatric body in the western world that would support this belief."
Iris Robinson added fuel to the fire when she returned to The Stephen Nolan Show this Monday, 9 June, to trenchantly stand over what she'd said. For good measure, she repeated her offence.
"I made a statement based on Bible teaching that homosexuality is an abomination."
Speaking in support of his party colleague, DUP MLA for Lisburn Jeffery Donaldson said Iris Robinson was entitled to express her views.
"This is a country where people have freedom of speech," said Donaldson.
"I don't believe that Iris has broken any law so I don't believe the police investigation will lead anywhere."
Donaldson is also a councillor in the unionist-dominated Lisburn Council which not only has a long and ignoble history of sectarian discrimination against Catholics living within the borough but more recently attempted to introduce creationism into the school curriculum.
Iris Robinson is not the first DUP MLA to make homophobic comments. Last year, former junior minister Ian Paisley Jnr was criticised after he said he is "repulsed" by gay and lesbian people.
Meanwhile, while the DUP was busy championing freedom of speech on behalf of fundamentalist Christianity, Iris Robinson showed she had no intention of extending the right to be heard to gay and lesbian people. Rejecting an invitation to discuss the issues with the gay support group, The Rainbow Project, Robinson said she "didn't need to put my hand in the fire to know I will get burnt".