12 June 2008 Edition
McFarlane trial opens in Dublin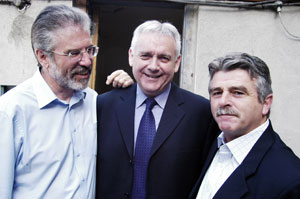 The trial of Belfast republican and Long Kesh escapee Brendan McFarlane, in connection with the kidnap of a supermarket boss 25 years ago, opened in the non-jury Special Court in Dublin on Wednesday.
Brendan 'Bik' McFarlane was charged in January 1998 with falsely imprisoning Don Tidey at Derrada Wood, Ballinamore, County Leitrim, in November and December 1983. He was also charged with possession of a firearm with intent to endanger life.
McFarlane had been in Long Kesh jail since 1975 and was O/C of republican prisoners during the 1981 Hunger Strike. He took a leading part in the mass breakout by 38 republicans from the H-Blocks in September 1983. He was later arrested in Amsterdam in early 1986, extradited to the Six Counties and released on parole from in 1997. He was arrested by gardaí outside Dundalk in January, 1998 and later secured bail pending the outcome of the challenges to his prosecution.
Sinn Féin Kerry North TD, Martin Ferris accompanied Brendan McFarlane at the opening of the trial.
"Brendan McFarlane is a strong supporter of the Peace Process and has played a crucial role in its development. These proceedings have been hanging over Bik and his family for over ten years. The time to stop this case has long since past, indeed many people are rightly questioning the motivation behind these proceedings. The case against Bik should be ended and he should be allowed to get on with in life in peace", Ferris said.
McFarlane lost a legal challenge to his trial in December 2006. During earlier hearings into his case, Gardaí had to admit to losing all of the alleged evidence against Brendan McFarlane. Rather than this being the end of the matter, the DPP sought to go down the road of a trial in a move that angered many republicans.