12 June 2008 Edition
McGuinness and Robinson take the helm as Paisley steps down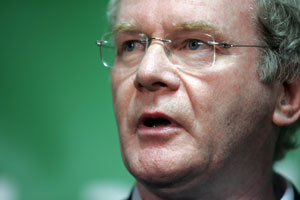 PETER ROBINSON of the Democratic Unionist Party and Sinn Féin's Martin McGuinness took up the positions of First and deputy First Minister in the North's Executive last week as Ian Paisley stepped down.
Following the nomination of McGuinness and Robinson at Stormont on Thursday, both men took part in talks with British Prime Minister Gordon Brown and Irish Government representatives in London on Friday. Those talks dealt with a range of crucial issues outstanding from the St Andrew's Agreement and which must be resolved if political progress is to continue.
Speaking on Wednesday evening, 4 June, Sinn Féin President Gerry Adams confirmed that progress had been made in recent discussions between Sinn Féin, the Irish and British governments and the DUP about resolving outstanding political issues and that Martin McGuinness would be nominated as deputy First Minister.
The Sinn Féin president emphasised that the St Andrew's Agreement was the basis for restoring the political institutions:
"There are a number of outstanding issues from the St Andrew's Agreement to be implemented. These include the transfer of power on policing and justice and an Acht na Gaeilge.
"These issues must be resolved satisfactorily if we are to build on the undoubted progress that has been made in the course of the past 12 months.
"As you know, in recent weeks Sinn Féin has been involved in discussions with the two governments and the DUP about these matters.
"I am pleased to say that progress has been made. Achieving a resolution of all of the outstanding issues is our continuing priority."
In the Assembly on Thursday, Sinn Féin President Gerry Adams nominated Martin McGuinness for the position of deputy First Minister.
As Ian Paisley stepped down as First Minster, Gerry Adams said:
"Ian Paisley has been a part of the political landscape in the North for as long as I can remember. He may be pleased to know that it was his desire to visit the Falls Road – Divis Street – in 1964 that first whetted my interest in Irish politics.
"His journey from those days to where he now sits has been well chronicled. And my views on his role for most of his career are also well known. So, I will not dwell on that today except, perhaps, to note – and he will forgive me for this – that he is the living proof of why a politician should never say never, or 'Never, never, never!'
Adams commended Paisley for the way he fulfiled his role as First Minister, alongside Martin McGuinness. He also commended Martin McGuinness.
"Both these leaders together proved that politics can work and that, far from being the 'problem parties' derided by begrudgers and naysayers, Sinn Féin and the DUP proved that progress could be planned and achieved and that difficulties can be overcome. And, a chairde, there is a public expectation that this will continue to be the case in the time ahead."
The Sinn Féin president said that it is a huge challenge for all the parties in the Assembly and especially for Paisley's successor.
"Ian Paisley and I did not  meet until recent times and he did not talk to me directly until 26 March last year when we agreed the arrangements which led to the re-establishment of the political institutions.
"Throughout all of our engagements I have always found him cordial and respectful. And I am convinced that the good humour and grace and enthusiasm he displayed in public was good for public confidence and for all the people of this island."
He wished Paisley well and extended best wishes to his wife, Eileen, and family. He commended Eileen Paisley on remarks she made at the Boyne site last month.
"There is an seanfhocail or proverb in the Irish language: 'Is fear feasach, go cinnte, é an duine a h'athraíonn treo ar leas an phobail agus is fear adhúil é an duine, a mhaireann fada go leor le tairbhe a bhaint as – It's a wise man who can change direction for the common good and it's a lucky man who lives long enough to enjoy it.'
"So, good luck. Go n-éirigh an bothair leat agus leis do chlann."
Speaking following the nomination of Peter Robinson as First Minister and himself as deputy First Minister, Martin McGuinness said he was conscious that leading the North's Executive jointly with Robinson brought a high level of expectation.
"We must deliver a real and marked improvement in people's lives. How we conduct our business and resolve our differences impacts directly on this task.
"I am an Irish republican. I want to see a reunited Ireland created by peaceful and democratic means. I want to see the unity of the Orange and the Green."
McGuinness said he is committed to working the institutions with the new First Minister, a committed unionist, delivering for all of the community. Bringing about change, he said, does not impact on their respective political ideologies.
The leading Derry republican said that, in recent years, regions around the world looked to Ireland and the Peace Process as an example of conflict resolution. He said this will continue into the future.
"Despite what the cynics and begrudgers might say over the past year, we have made huge progress. We have achieved what many said was impossible. We are in a stable power sharing and all-Ireland institutions. We have agreed a Programme for Government, a Budget and an investment strategy,
"There is much hurt within every section of our community. People have lost loved ones and many others have been injured in the course of the conflict. They are an important constituency. And we now have in place a commission to address the needs of victims and survivors."
The Executive is pro-actively tackling divisions within society and would continue to do so, he continued.
"Across a range of issues we have confounded the critics and from differing positions we came to effective agreement. We have shown that we can work together. Peter Robinson and myself were part of the Executive which has achieved this and I am committed to working with Peter Robinson positively as we meet the new challenges which we now face," the deputy First Minister said.
McGuinness pointed out that the all-Ireland political institutions are up and running and delivering for all of the people on this island. They offer, he said, an island-wide approach to dealing with problems, offering solutions and bringing benefit to all.
He continued:
"Over the past year the institutions have been bedded down under the leadership of Ian Paisley and myself. It has indeed been a remarkably historic year. From the beginning, both of us treated each other with respect and I wish to pay tribute to Ian Paisley for his role in this and I wish him and his wife, Eileen, well in the future. Throughout the past year we have enjoyed much support and goodwill from the people of Ireland.
"But we are now entering a new phase. As far as I am concerned, the honeymoon period is over. This is now about hard work. People out there are expecting results. We come here to deliver for the people
"Our people want a future for their children and prosperity at a time when the cost of living is spiralling. We must continue to grow our economy in order to generate wealth to deliver effective public services and protect the most vulnerable in our society. The recent investment conference was a success and I am confident that it will lead to tangible results.
"Our people want an end to division and to be valued equally. As an Irish republican I want equality for everyone, not just republicans and nationalists. We must promote tolerance and celebrate our cultural and linguistic diversity.
"We must be open to the new communities who have enriched our society in recent years and we must stand with them in the battle against racism.
"The war is over. Ian Paisley, in generous remarks after a meeting of the North/South Ministerial Council in Armagh, said that we had to end the divisions and old hatreds on our island. That means actively tackling the scourge of sectarianism. Difference in our past meant division. In the future we need to ensure that difference isn't seen as a threat but instead as something to cherish and celebrate. We need to start talking to each other and not at each other. And we as political leaders must take the lead, particularly here in this chamber.
"Our people want to feel safe in their homes and on the streets. I want to see this Assembly having the powers on policing and justice to ensure that this happens.
"We must continue investing in health, education and the elderly.
"We face significant challenges in the global economy with rising prices and a downturn in the housing market. We also face challenges as we journey out of conflict and attempt to reconcile our past with a new and better future.
"I believe that, despite all of the challenges which lie ahead, we will continue to make progress across the island.
"We are determined to bring an early conclusion to the talks which will begin tomorrow to resolve all of the outstanding issues from the St Andrew's Agreement. The public want stability and progress and, acting together with the new First Minister, we intend to deliver both."
Martin McGuinness noted a speech in the United States in 2006, when Peter Robinson said: "I hope that the sons and daughters of the Planter and Gael have found a way to share the land of their birth and live together in peace."
Recalling those words in the Assembly last week, Martin McGuinness echoed that sentiment.
"I share that hope and as joint First Ministers, the new First Minister and I, as the leaders of the Planter and the Gael, are charged with the responsibility to lead the way on behalf of the Executive."