12 June 2008 Edition
DUP reshuffle Poots dropped from North's Executive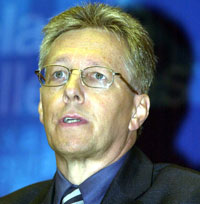 Sammy Wilson — an 'environmental dinosaur'
The North's Culture Minister Edwin Poots has been dropped from the Stormont Executive and replaced by Gregory Campbell.
Sammy Wilson has been appointed environment minister, while Arlene Foster moves to the Department of Enterprise, Trade and Investment.
The reshuffle of DUP ministers follows the elevation of Peter Robinson to first minister.
North Antrim Sinn Féin MLA Daithí McKay has said that the DUP decision to appoint Sammy Wilson as Environment Minister is "grossly irresponsible" and that the Environment would suffer because of it.
"It is quite clear that Peter Robinson went for the 'nuclear' option by selecting Sammy Wilson as the new Minister for the Environment. Mr Wilson is someone who is not only in favour of nuclear power plants he constantly calls into question the evidence which shows that climate change is one of the greatest threats to this planet. When it comes to the environment Sammy Wilson is still very much a dinosaur", McKay said.
"In her term of office Arlene Foster failed to deliver anything substantial in regard to the Environment and many environmental NGOs will not be sorry to see her go. Unfortunately for them, unfortunately for the environment, it looks like a case of – out of the frying pan and into the fire."
On the announcement that the DUP's Gregory Campbell is to be the new Six County Culture Minister, Sinn Féin Culture spokesperson Francie Brolly MLA said Irish speakers would "shed no tears" at the departure of outgoing Minister, Edwin Poots.
"His lack of care for the Irish language was astonishing. Edwin Poots missed the opportunity to be long sighted on many issues", Brolly said.
"Gregory Campbell must now have a mature approach in his new position, start with a clean slate and show respect for multiculturalism and multilingualism.
"Sinn Féin will be seeking an urgent meeting with the new minister on a range of issues such as the multi-sports stadium, the arts, the Irish language broadcast fund and Acht na Gaeilge.
"Go n-éirí an bóthar le Gregory", he said.