5 June 2008 Edition
Ruane 'right' to fund Derry bunscoil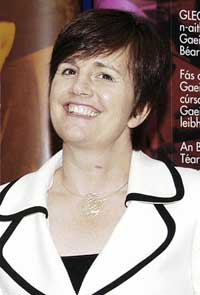 THE Council for Irish medium schools, Comhairle na Gaelscolieanna, has said that it supports a decision by the North's Education Minister, Sinn Féin's Caitríona Ruane, to authorise funding for a third bunscoil in Derry.
This follows criticism of the decision to approve funding for Gaelscoil na Daroige in Ballymagroarty on the grounds that it could damage the city's existing bunscoileanna. But Sean Ó Coinn, Comhairle na Gaelscoileanna chief executive says that a comprehensive blueprint for the development of Irish-medium education had been drawn up on the basis  of detailed analysis of demographic trends.
"The information  indicates that there is sufficient demand for Irish-medium education in Derry city for at least a third Gaelscoil...", he said.
Caitríona Ruane said that the demand for Irish-medium education is growing at a time when overall pupil numbers are falling.
"Critics of my decision need to realise and accept that I have a statutory duty to support and facilitate both Irish medium and integrated education. In this case I believed there was a strong and growing demand for this school. I took account of the full range of information available, including from my Department, Comhairle na Gaelscolaíochta and the Western Education and Library Board.
"In addition, the European Charter for Regional or Minority Languages requires government to promote the Irish language in education.
"It is apparent that a small number of people making inaccurate and inflammatory comments are trying to demonise the Irish language instead of giving it equality of treatment.
"To receive funding Gaelscoil na Daroige needed to have a Year 1 intake of 15 pupils at September 2007. As this number was not reached, no funding was provided, so claims of wasting resources are totally inaccurate.
"Support for Irish-medium schools is provided on exactly the same basis as every other sector, no more favourable, no less favourable."