5 June 2008 Edition
Sinn Féin and Unite launch Dáil Bill on union rights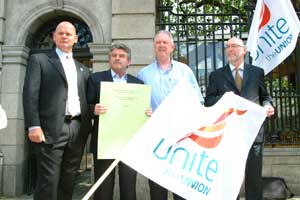 A SINN FÉIN Dáil Bill to give workers the right under the Constitution to collective bargaining and mandatory trade union recognition was jointly launched this week by the party's Workers' Rights spokesperson, Arthur Morgan TD, and Unite the Union's Regional Secretary for Ireland, Jimmy Kelly. Unite is the second largest trade union in Ireland.
Speaking at the launch at Leinster House on Tuesday, Arthur Morgan said:    
"There is a clear demand from the trade union movement for legislation to protect the right to collective bargaining and to provide for the mandatory recognition of trade unions. Without such protections unions cannot protect terms and conditions of employment and resist the downward pressure on wages.
"Last Friday, SIPTU added its voice to those of Unite and the TEEU in dismissing deeply misleading claims that the Charter of Rights appended to the Lisbon Treaty can deliver these rights in the absence of domestic legislation. That some parties have attacked unions for making this crucial demand on behalf of their members at this time is reprehensible.
"By accepting this Bill the Government can meet the demands of unions and ensure that Irish workers have the rights merely aspired to in the charter.
"There is no question but that the attitude of workers and trade unionists have been hardened by the failure to protect pay and conditions and enforce labour law when our labour market was opened to workers from the accession states.
"Unions have a job to do and that involves protecting and improving the rights of workers. Without question, the absence of the right to collective bargaining and mandatory trade union recognition impedes the ability of unions to do this.
"While Government acceptance of this Bill would be a progressive step for workers' rights, Sinn Féin does not share SIPTU's view that Government acceptance of such legislative change would be sufficient reason to support the Lisbon Treaty.
"Sinn Féin remains firmly of the view that the Lisbon Treaty is bad for workers and has serious implications for public services. On this basis we are urging all workers and trade unionists to reject the treaty and vote 'No' on 12 June.
"Sinn Féin will be working with the trade union movement in campaigning for constitutional change to guarantee the right to collective bargaining and trade union recognition. The Government must accept this Bill."
AT THE MOMENT, trade union rights are covered only in an extremely limited way under article 40.6.1 of the 1937 Constitution, which guarantees the right to form associations and unions. Essentially what exists is only freedom of association and disassociation, and a voluntarist approach to trade union recognition.
Where a worker chooses to exercise their constitutional right to join a trade union, the employer is not under any obligation to recognise or negotiate with that union. A trade union – even one which holds a negotiating licence – cannot claim a constitutional right to recognition for negotiating purposes. Nor will its members have a right of industrial action if the trade union is not recognised. The reality is that employers will give such recognition only if they believe it to be in their interests or if they are legally required to do so.

REFUSED RECOGNITION
Contrary to suggestions at the time of their introduction, the Industrial Relations (Amendment) Act 2001 and the Industrial Relations (Miscellaneous Provisions) Act 2004 do not provide for trade union recognition at all, but only set out options for trade unions that have been refused recognition by employers.
Where employers are determined to stay non-union, therefore, the law as it stands does not greatly assist workers. This was proven in 2005 when IMPACT and the Irish Airline Pilots' Association applied to bring Ryanair before the Labour Court under the Industrial Relations (Amendment) Act 2001 and the court found that the Acts did not require Ryanair to negotiate with trade unions and could not be used to enforce trade union recognition against an employer.
Morgan attacked misleading claims that the Charter of Rights appended to the Lisbon Treaty delivers these rights.