5 June 2008 Edition
Cowen assurances to farmers 'not worth the paper they're written on'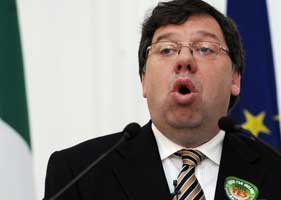 TAOISEACH Brian Cowen's assurances to the Irish Farmers' Association that he'd use Ireland's veto on international trade agreements not in Ireland's interests if farmers voted for the Lisbon Treaty are "not worth the paper they're written on", Sinn Féin spokesperson on Agriculture Martin Ferris TD said.
The North Kerry TD was speaking on Tuesday after the IFA urged its members to support the Lisbon Treaty following a meeting with the Government.
"The Irish Government cannot commit to using a veto if that veto does not exist," Martin Ferris said.
"I put it to Brian Cowen that the reason the Government has spent months hand-wringing on this issue and has made today's commitment to the IFA at the eleventh hour is because he knows that the treaty text does not support his claim on the veto."
Ferris said Sinn Féin stands over its argument that the Lisbon Treaty removes Ireland's ability to veto the kind of international trade agreement currently being negotiated by Peter Mandelson at the World Trade Organisation.
NO BLOCK TO WTO
"Article 188 removes the general veto on services such as health, education and social services. It is replaced with a restricted veto, which could only be applied if this state could prove that the inclusion of such services risked 'seriously disturbing the national organisation of such services'. Such a restricted and conditional veto could not be used to block the current WTO trade deal.
"The veto which could be used today to block a bad WTO deal will be gone if we ratify the Lisbon Treaty.
"Sinn Féin's message to the farming community is if you want to keep Ireland's veto on trade agreements the best course of action is to vote 'No' on 12 June to send the government back to renegotiate a better deal. Rural Ireland deserves better."