22 May 2008 Edition
Volunteers remembered in emotional day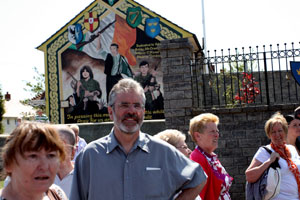 BY PEADAR WHELAN
"OUR patriot dead remind us of our humanity, that we should live for us and not for me, that human progress, built on the sacrifice of many thousands of patriots is a gift that must be cherished," Belfast Sinn Féin Councillor Tom Hartley said last Sunday at a day of events to honour Volunteers Jimmy Quigley, Eddie 'Mundo' O'Rawe and James 'Spotter' Murphy.
The trio were remembered by the Republican Movement in ceremonies that saw plaques unveiled in their honour on their family homes in the Greater Ballymurphy area.
Up to 300 hundred republicans from across Belfast, including Sinn Féin President Gerry Adams, gathered outside the Quigley family home in Britton's Parade.
It was clearly an emotional event for the Quigley family as they gathered, supportively, around their mother, Mary, as she unveiled the plaque to Jimmy.
After the ceremony, it fell to Councillor Tom Hartley, a friend and comrade of Jimmy's, to deliver the oration.
Hartley recounted his personal memories of a young man who had an engaging smile, was intelligent, had a love of Irish history and the language yet had a steely determination to end British rule in our country. He was just 17 when he was shot dead by the British Army on 29 September 1972.
"Today we stand in awe at his strength and determination which can be found in his individual willingness to meet the enormous challenge of his time," Tom declared. "He clearly understood that the rotten edifice of partition and the Northern state had to be toppled."
IMPORTANT
The parade, led by a republican colour party, then marched through Ballymurphy to the Upper Springfield Memorial Garden for a wreath-laying ceremony.
The next part of the journey took the crowd to New Barnsley, to the O'Rawe family home, where the memorial to Mundo and his uncle, Spotter Murphy, was unveiled.
Fra McCann, one of Sinn Féin's longest-serving elected representatives, addressed the gathering and focused on the educational aspect of republican commemorations.
"We are the inheritors of this struggle, we have a duty and responsibility to ensure that young people know who Jimmy Quigley, Mundo O'Rawe and Spotter Murphy were and why they are so important to us as a community," Fra stressed.
He compared the selflessness of Volunteers Quigley, O'Rawe and Murphy to those whose anti-social activities have been a blight on our community.
"Jimmy, Mundo and Spotter represented all that is good about our communities. They were the people who said no to a corrupt state and who raised the flag of freedom for another generation of Irish people.
"We, as republicans, have a duty to defend our communities. It is the republican thing to defend our communities. We have it in our hands to make a difference. Let's take up the challenge and make that difference."
As Fra McCann brought his oration to a close, a small knot of family and friends gathered beneath the newly-unveiled memorial.
In their midst were Mary Quigley and Kate McLaughlin, Mundo's sister.
As if speaking to herself, but addressing those about her, a tearful Kate said:
"I want to thank those who organised today's commemoration. They are keeping my brother's memory alive. It is so important."
In the end, we owe to our patriot dead that we remember them and continue until we achieve the free Ireland they died for..