22 May 2008 Edition
Tim Pat Coogan launches book on 1950s EOKA and IRA prisoners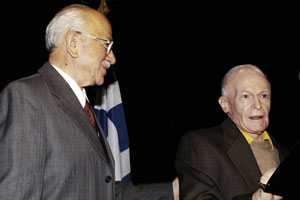 Solidarity down the decades
A BOOK recording the imprisonment of Cypriot EOKA and IRA prisoners in England in the 1950s was launched in Dublin by Tim Pat Coogan, historian and author, in the Ireland Institute on Saturday, 10 May.
EOKA (Ethniki Organosis Kyprion Agoniston, Greek for National Organisation of Cypriot Fighters) waged a four-year struggle from 1955 to 1959 for the independence of Cyprus from British colonial rule and for union with Greece.
In 1956, according to Robert Taber's book, The War of the Flea, the British Army deployed 22,000 troops in Cyprus to crush EOKA; EOKA had a total frontline strength of just 273 full-time fighters backed up by 700 part-time guerrillas. The gallant EOKA fighters, despite being vastly outnumbered and fighting a fully modern colonial army, prevailed.
Cyprus gained independence from Britain in 1960 although Turkish forces have occupied a third of the island since political unrest in 1974.

PATRIOTS

The new book, Irish and Cypriot Political Prisoners in Britain, 1956 to 1959, was written by Vias Livadas, one of the EOKA leaders then serving a life sentence for his part in the struggle for Cypriot independence.
A number of Cypriot veterans of that struggle were present at the Dublin book launch.
Renos Kyriakides, who led a guerrilla group in the mountains before his capture and also a veteran of the British prison experience, was accompanied by his wife.
Demitri Philiastides travelled from Athens to be present on the occasion.
Ten Cypriot patriots in all came to Dublin for the launch of Vias's book and their Irish comrades were so pleased to see these often forgotten heroes share the limelight and their memories of struggle once again here in Ireland.