12 August 2010
Parades Bill changes welcomed by Gerry Kelly MLA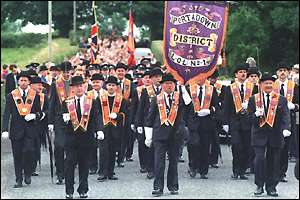 SINN FÉIN Assembly member Gerry Kelly has welcomed the announcement by the First Minister and deputy First Minister a number of changes have been made to the Parades Bill to ensure that the primary purpose of the legislation – dealing with contentious parades – is guaranteed.
"The purpose of this legislation is to deal with the issue of loyal order parades. In our party submission to the consultation we argued that changes should be made to the draft Bill to remove any confusion and to deal with concerns put forward by the trade union movement and others. This has now happened. As a result, public meetings and other gatherings are being removed from this draft legislation.
"The whole purpose of the consultation period was to allow key stakeholders and concerned groups to make submissions on this important piece of legislation.
"This legislation will see a new way of dealing with the issue of contentious parades on the basis of equality and human rights. The right of all citizens to live free from sectarian harassment will be at the core of the legislation.
"At the heart of the new proposals will be an emphasis on dialogue. There will be mechanisms to encourage local people to resolve local issues of concern regarding contentious parades through locally-based dialogue."
ENDS