22 May 2008 Edition
Matt Treacy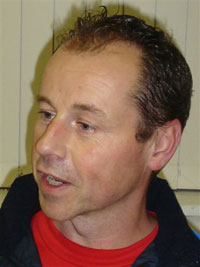 Don't be surprised by surprises
MICK O'DWYER made the fair point following Wicklow's surprise victory over Kildare last Sunday that had the result been reversed Wicklow would not have been given the opportunity to compete in the qualifiers as they failed to win promotion from Division Four. It's something that will be even more heartily felt by the Antrim management after losing to Cavan.
A season that began brightly for them, with promotion seemingly assured at one stage, has turned into a disaster over the past five or six weeks. Their season is finished now other than the consolation of the Tommy Murphy Cup and the chance to go one better than last year when they were pipped by Micko's lads in the final.
The other Leinster game was between Meath and Carlow. A game so one-sided that not even a lunatic Meath supporter of my acquaintance could muster the slightest enthusiasm. Meath would probably have been better off staying down in the Columban Fathers and having a practice match between themselves.
A similar debacle transpired in Salthill, where Galway overcame Roscommon by 16 points. In fairness, the Rossies were competitive in the first half but once Gary Cox was sent off for a second yellow card, less than 10 minutes into the second half, the end result was inevitable. Matthew Clancy was excellent for Galway at right half-forward and his goal was the defining score of the game.
Liam Sammon - a bit of a folk hero in Dublin for his part in Paddy Cullen's famous penalty save eons back! - clearly knows what he is at and has Galway playing in a similar style to the team that won the All-Ireland in 1998 and 2001. Whether they are good enough to emulate them is another thing.
I tipped them (cue gnashing of teeth from a westerly direction) last year to make the semi-finals but they were disappointing. If they keep winning they will meet Kerry possibly in the semi-final. But first, of course, they have to win Connacht. Still an excellent bet as earlier advised.


ON SUNDAY there are a number of less predictable football matches and the possibility of some surprises.
Limerick and Tipp and Clare and Waterford do battle to earn the questionable privilege of meeting Cork and Kerry respectively in the semi-finals. Limerick and Clare have home advantage and are favourites but I'm going to go for Tipp and Waterford.
Both the latter had better league campaigns, with Tipp being promoted and Waterford beating Clare comfortably in their league encounter. You can go for an 8/1 double or just take Waterford on their own at 7/4 or thereabouts. Send me 10 per cent commission for my trouble but if you lose it's your own problem.
London take on Sligo in Ruislip in the Connacht championship and realistically there is only one outcome.
The most interesting match takes place in Enniskillen, where Fermanagh take on Monaghan who, despite faltering slightly in the latter stages of the league and missing out on promotion, are still many people's fancy to win Ulster and perhaps more this year.
Fermanagh had a good year and seem to have recaptured some of the edge and flair that brought them to the semi-finals in 2004. They have established a formidable reputation in Enniskillen, having been forced to play away from there while it was being renovated, and Monaghan will get nothing easy. A lot will depend on how McEneany has prepared them for this following the disappointment of the league. But a surprise here would not be such a surprise, if you follow me.


THERE will be no surprises in the hurling. Laois without the brilliant James Young (out with the dreaded cruciate ligament affliction) will face a torrid afternoon in Portlaoise against Offaly. who they beat in the league. Offaly are no great shakes but do have some promising younger players allied with experience on and off the field. They will win and win easily, one suspects.
Dublin manager Tommy Naughton must occasionally wake on rainy nights and think of Portlaoise two years ago to the day when Westmeath beat Dublin in a Leinster quarter-final which everyone (except Westmeath obviously) expected the Dubs to win. It was a dreadful day on which Westmeath reminded Dublin in stark terms of their humble origins.
Dublin, recently crowned and unbeaten Division Two champions, had their eyes on higher things and sunny days. Westmeath were still confined to the grim trenches of the lower tier. Grit prevailed.
Now, two years later, Westmeath are Division Two champions and Dublin have spent the last two years surviving comfortably enough among the elite. Not quite one of them yet but accepted enough to be allowed hang around with the bigger boys without provoking too much sniggering.
2006 may have been a blessing in disguise for Dublin but defeat on Sunday is unthinkable. That was then; this is now. Dublin have to beat Westmeath and face Wexford for the dubious honour of being the Cats' plaything on 6 July in Croke Park.
Westmeath were good against Carlow. By far the better and more accomplished team but possibly too dependent on certain players and on controlling certain sectors of the field. Dublin observed keenly and are familiar with most of them anyway, so the homework is done.
The prize for progressing is a meeting with Wexford in Kilkenny on 14 June. It is not much of a prize, given that not only defeat but a handsome thrashing is the likely reward. Wexford know all about that and if it is close between themselves and the Boys in Blue, Dublin's greater hunger and Wexford's psychological burden might be the key factors.
Finally, mention must go to the Monaghan hurlers who scored a noteworthy victory over Division Three winners Donegal last weekend. A certain Dublin club might have to do more poaching in that part of the country!