22 May 2008 Edition
Sharkey demands inquiry into cancer misdiagnoses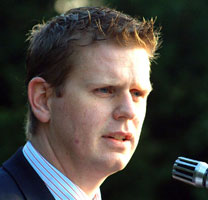 LOUTH Sinn Féin Councillor Tomás Sharkey has called for a public inquiry to establish what went wrong to cause the 26 County Health Service Executive (HSE) in the North East to send letters to 4,590 people warning that they may have cancer even though they had previously been given the all clear. Sharkey also said that whoever made the decision not to tell families of possible misdiagnoses for a period of six months should be sacked.
"Some letters have actually arrived months after the person in question has died as a result of cancer much to the dismay of their loved ones. A man in my constituency was x-rayed in May 2007 and he was sent home after being told that all was ok. On 14 November 2007 he was readmitted to hospital and x-rayed. This time the radiologist on duty immediately recognised cancer on the x-ray. That new radiologist checked the May 2007 x-ray result and realised that it was clearly shown on that one also.
COVER UP
"The HSE tried to cover it up. Only when he went to another hospital for further treatment was he told he had cancer. X-rays of this man were taken just hours before he died and the family had never been given an explanation as to why. All of this adds to the pain and the cruelty and the trauma but also to the view that the HSE tried to cover this up.
"The HSE originally said four people died as a consequence of misdiagnosis however this figure now heading for ten. This is an example of an organisation that is totally in crisis and incapable of dealing with this urgent situation.
"A public inquiry is required to establish what went wrong and whoever made the decision not to tell families for a period of six months should be sacked."
Sharkey said that since Health Minister Mary Harney came into office there had been several serious examples of mismanagement and that she should resigm.
He criticised councillors from Fianna Fáil and Fine Gael who resigned as represenatives on the HSE North East Forum.
"They are walking away on the people of Louth. Mary Harney is the only person who should resign on this, not any local councillor.
"I am calling for all resources necessary to go into the re-examination of these x-rays even if this means bringing in radiologists from wherever they are available in continental Europe. The HSE say it will take eight weeks to re-examine all the x-rays. This is totally unacceptable as the gentleman that I have referred to was dead within seven weeks of getting a proper diagnosis. People are not able to sleep or eat for the fear they are feeling as a result of this", he said.