22 May 2008 Edition
US human rights monitor examines Garda action at Rossport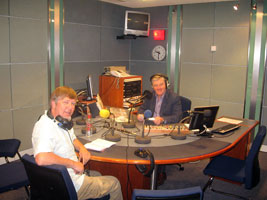 BY ADAM MURPHY
DENNY LARSON, director of the San Francisco-based human rights group, Global Community Monitor (GCM), visited Ireland last week.
His trip was to follow up on the visit last year of a delegation to inquire into the policing of the protests against Shell's scheme to install a production pipeline and refinery in Rossport, County Mayo.
The 2007 delegation from South Africa, Holland and the USA held public hearings and witnessed first-hand the brutal behaviour of gardaí towards peaceful protestors.  The delegation issued a report documenting Garda misbehaviour and the widespread feelings of residents that their community is "under siege". (This report can be read on the GCM website - www.gcmonitor.org.)
This year, Denny Larson was joined by GCM colleague Ruth Breech, an experienced activist dealing with community campaigns around the world, and South African environmental campaigner Desmond D'Sa . D'sa is a neighbour of Shell's massive refinery in South Durban, which began as a small operation and has grown to be the largest on the African continent.
GARDA TACTICS
Desmond D'Sa chaired a public meeting at Liberty Hall in Dublin last Thursday evening when the issues of Garda tactics and strategies were discussed.
A number of points were raised in the discussion:-
The police in Erris seem to have a policy of NOT arresting people if they can avoid it.
This policy was admitted by the local superintendent in the Garda Review magazine (October 2006 Issue). If the protestors are actually doing something wrong they could easily be arrested and brought before the courts but in the few cases where this has happened the cases are usually dismissed. But the Garda Síochána seem to be using violence as a way of circumventing the courts. While this is obviously better for Shell, it's unclear why the police should be actively trying to get out of taking people to court.
The Garda operation in Mayo is chaotic and dangerous.
Gardaí are receiving poor guidance on their role, with some admitting in court that they do not know what they are supposed to be doing and have not been given any training in dealing with demonstrations.
Roads are closed, vehicles are stopped, protestors and bystanders are detained, but there is no clear understanding amongst the members of the Garda Síochána exactly what their strategy is.
For example, as recently as last Wednesday week, local man Ed Collins, who was thrown into a ditch at a protest in November 2006, saw his case finally dismissed by the court at Belmullet. After a number of hearings, the judge said that the whole case could be summed up in one word: "Confusion."
GARDA OMBUDSMAN
The Liberty Hall event, which was attended by human rights and environmental activists from Ireland, as well as a representative from the Garda Ombudsman, also heard contributions from many people who have attended demonstrations at Bellanaboy.
Rossport Five member Micheál Ó Seighin was also present and gave an update on the campaign against Shell.
It was pointed out that a recent Dáil question by Sinn Féin TD Aengus Ó Snodaigh discovered that the policing of the demonstrations in Mayo has cost €8.9 million so far and is expected to break the ten million mark soon.
A recent recommendation by the Ombudsman that the Department of Justice should examine the way protests are handled was rejected by the Justice Minister.
Denny Larson pointed out:
"Had Shell chosen the right location for their pipeline and refinery, they would have full community support and this struggle would not exist."
Many people remarked that if the Government had chosen to spend €10 million on working out a solution to the situation in Rossport, a compromise would certainly have been reached by now.