22 May 2008 Edition
Book Review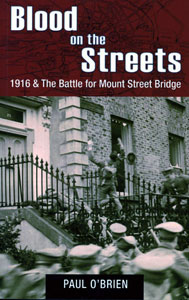 A heroic stand remembered
Book Review
Blood on the Streets: 1916 and the Battle for Mount Street Bridge
By Paul O'Brien
Published by Mercier
Price €12.99

Reviewed by
Aengus Ó Snodaigh TD
NINETY-TWO years ago this week, Lieutenant Michael Malone of the Irish Volunteers' Cyclist Corps led a small number of Volunteers of 'C' Company, 3rd Battalion, towards Mount Street Bridge, a key crossing point into Dublin City. It was here that he and his men put up one of the most heroic stands of the Rising - an Irish Alamo - where a small group of Volunteers held off a vastly superior number of professional soldiers for days.
In Paul O'Brien's short book he captures the events of the first three days of the Irish Republic in these outposts of the Boland's Mill garrison under Eamon DeValera. The outposts were carefully chosen in advance and it was intended for a much larger number of Volunteers to hold them in the face of predicted British reinforcements trying to enter the city as the Rising took hold - Carrisbrooke House, 25 Northumberland Road, the parochial hall and schoolhouse, Clanwilliam House and the nearby Roberts' Building Yard. These outposts were supported by snipers along the railway tracks, who kept the British garrison in the adjacent Beggar's Bush Barracks pinned down for the duration of the Rising.

GRAPHIC DETAILS
O'Brien, using some of the contemporary witness and Volunteer statements, and also the account of British Army's Sherwood Foresters, graphically details the wave upon wave of raw British soldiers which were thrown into the fray. Hundreds of newly-trained soldiers who thought they were heading for the Somme were repulsed over the few days by the defensive fire from the Volunteers' outposts, leaving over 210 of their number dead or wounded. Their 'reward' for actions was to make up the firing parties which executed the leaders of the Rising.
Four Volunteers of the 13 who occupied the position died in the fight as the weight of numbers, grenades and firepower saw the buildings being overrun _ Michael Malone, George Reynolds, Patrick Doyle and Richard Murphy.
The heroics of the Volunteers is well described, as is the ludicrous military strategy employed by the British commanders. Even though Paul O'Brien obviously forgot that the IRB set up the Irish Volunteers and therefore had no need to "infiltrate" its ranks, his book is well-worth the read and sits well with other accounts of the heroic stand in the Mount Street area in April 1916.