22 May 2008 Edition
Book Review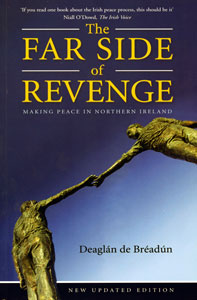 A solid background to the Peace Process
Book Review
The Far Side of Revenge
By Deaglán de Bréadún
Published by
The Collins Press
Price €18.99

Reviewed by
Sinn Féin General Secretary Rita O'Hare


GOOD TIMING by the author and publisher as the updated edition of Deaglán de Bréadún's book on the Peace Process negotiations was launched last month a few days before the tenth anniversary of the Good Friday Agreement.
The Far Side of Revenge was first published in 2001 and de Bréadún's update takes it to the establishment of the power-sharing government.
This is a solid book of reportage by the Irish Times journalist who was based in Belfast, covering the negotiations, the lead-up to the all party talks and the background to it all.
While de Bréadún was, like any journalist, dependent on 'sources close to' the main players (which inevitably colours the message in the way that his 'sources' want),  he does a good job in this straightforward account of what was happening during the high-wire act of the evolving political developments. And what was presented publicly and what was going on privately often differed, as he ably illustrates.

STRENGTHS
One of the strengths of de Bréadún's book is that while he does speculate on aspects of what was happening behind the scenes he is clear that it is his own speculation - and he never tries to portray himself as a player.
He is a political reporter covering a hugely important and at times exciting political process.
That makes the final chapter in fact more interesting because de Bréadún takes stock of what has been achieved so far and the prospects for the future.  A united Ireland is clearly on the cards and he points to the significant differences and changes in attitudes in elements of unionism to the South and to mutually beneficial North/South working practices.
While de Breadún does go for the prevailing wisdom and cliché of the moment at times, that does not detract from what is a pretty straightforward account.
This is a valuable addition to the books written about the achievement of the Good Friday Agreement - many a thesis will be based on this one.