22 May 2008 Edition
Builder pulls out of public-private housing schemes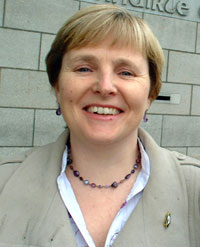 SINN FÉIN Housing spokesperson Aengus Ó Snodaigh TD has called on the Government to step in to save community regeneration projects threatened by the pull-out by private building firms in public-private partnerships (PPPs).
The McNamara building firm announced this week that it would not proceed with five planned regeneration projects in Dublin.
Dublin City Council announced on Monday that the regeneration of St Michael's Estate, O'Devaney Gardens, Dominick Street, Seán McDermott Street and Infirmary Road will not go ahead as planned as the private builders have pulled out of the contract.
WARNING
Speaking at a press conference in Dublin on Tuesday, Dublin South Central TD Aengus Ó Snodaigh said:
"Sinn Féin had warned that public-private partnerships were over-reliant on private developers who would not be around once the housing market dropped and this has proven to be the case.
"The Government must now step into the builder's shoes and ensure that the houses are built on time and that the regeneration of these areas of severe disadvantage occurs.
"This situation highlights the need for a change in government policy to ban the use of PPPs for such basic requirements as public housing projects. Because of this reliance on PPPs, hundreds of families are now waiting in unsuitable accommodation for the completion of their homes.
"Housing Minister Michael Finneran needs to make a statement on this matter. The Government has been very quiet on this issue and the people affected need to know what's going on."
INVITATION TO MINISTER
Dublin City Sinn Féin Councillor Críona Ní Dhálaigh, a member of the St Michael's Regeneration Board, echoed the call for action.
"It is vital that the investment by the community in preparation for the regeneration is not wasted. This is the third time that the people of St Michael's Estate have been let down.
"The PPP arrangements were forced against their will on the people of St Michael's by former Minister Martin Cullen. They were told that this would ensure the quickest delivery of their regeneration project yet they have been let down once again."
The Sinn Féin leader on Dublin City Council, Councillor Christy Burke, called on Housing Minister Michael Finneran to visit O'Devaney Gardens in his Dublin Central constituency to see for himself the conditions people have to live in.