22 May 2008 Edition
European Parliament overwhelmingly backs MEP's PEACE report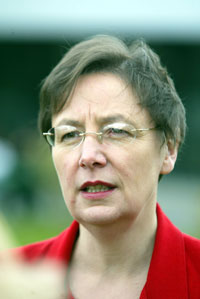 SINN FÉIN MEP Bairbre de Brún has welcomed the European Parliament majority vote endorsing her evaluation report on PEACE funding.
The PEACE report was adopted with 603 in favour, 21 against.
The PEACE report, compiled by de Brún as rapporteur, contains strong recognition for the work that has already been done. This includes paying respect for the grassroots activists as well as the great support from the European Parliament and the Commission in particular.
This is also the first European Parliament report to be voted in Irish (as Gaeilge).
The report comes at a time when we have seen the launch of PEACE III, the launch of the EU Task Force report and a hugely successful investment conference.
Speaking from Strasbourg, Bairbre de Brún said:
"I am pleased that MEPs throughout Europe have voted to accept my evaluation of the PEACE funding and I believe this report can be a benchmark for other countries.
"The strength of PEACE lies in the bottom-up approach which must be continued into PEACE III.
"The report points out the need for the good work of PEACE to continue after PEACE funding has ended. Peace-building is a long-term process and a guarantee of security is needed for long-term projects.
"Mholfainn go mbeadh an earnáil dheonach agus na comhairlí áitiúla gníomhach i gcur i bhfeidhm PEACE III.
"Tá se rí-thábhachtach fosta nach stopfaidh an chomhoibriú idir rannpháirtithe i gcláir arna mhaoiniú ag PEACE agus CIÉ nuair a thiocfaidh an clár chun deiridh agus iarraim iar ranna rialtais cistiú príomhshruthaithe a chinntiú don obair luachmhar seo ar chríochnú don cistiúchán PEACE.
"Iarraim orthu ach go háirithe obair le íospairtigh agus le marthanóirí a chinntiú.
"This is also the first report to be voted in the European Parliament in Irish. I hope this report will show others what is possible in Irish and that it will act as a spur for equality for Irish speakers in the parliament and in the EU institutions more generally."
Bairbre urged the active involvement of the community and voluntary sector as well as local councils in the roll-out of PEACE III and for the statutory sector to mainstream valuable work once PEACE funding comes to an end.
The Sinn Féin MEP also highlighted the dependency of victims' and survivors' groups on non-recurring PEACE funding and that they therefore must be safeguarded in the future as regards how they will proceed when PEACE funding is no longer available.