22 May 2008 Edition
Interview : Seán Lynch - from Long Kesh to the District Policing Partnership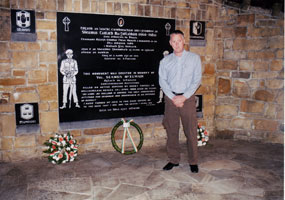 Republicans and policing — 'another stage in the struggle'
FERMANAGH republican SEÁN LYNCH is a former O/C (Officer Commanding) of republican POWs at Long Kesh Prison. Lynch spent several years 'on the run' in the 1980s and survived an assassination attempt in which his comrade, IRA Volunteer Seamus McElwain, was summarily executed by Britain's SAS. He subsequently spent 12 years in prison.
Released under the terms of the Good Friday Agreement (GFA) in 1998, Seán Lynch involved himself in Sinn Féin activity in Fermanagh. Now a member of the Fermanagh District Policing Partnership, Lynch speaks to An Phoblacht Editor SEÁN Mac BRÁDAIGH about early political influences, the infamous SAS ambush at Roslea in 1986, his time in Long Kesh, and the need for republicans to adapt to the changing conditions of the struggle.
BORN in 1954 into a farming family in rural Fermanagh, Seán Lynch is the eldest of 12 children, reared in Baltreagh, outside Lisnaskea. An early political influence was elderly relative, Alex Lynch, an active republican during the 1916-1921 period.
Alex Lynch had been close to Matt Fitzpatrick, a prominent IRA figure in Monaghan during the Tan War who was shot by B-Specials during a gun battle at Clones railway station. The Lynch children would regularly quiz Alex about this incident when he visited the house as they grew up.
When the Civil Rights campaign began in the North, Seán Lynch was just 14 years old. There was much discussion in the house about the injustice and levels of discrimination faced by nationalists in terms of employment and housing, particularly in Fermanagh; there wasn't even one Catholic bus driver in the county. Although his parents were not republicans, they were very politically conscious and aware of the effects of partition. Following several attempts to make contact and get involved in the republican struggle, Seán Lynch became an active republican at the age of 19; other members of the family also became involved.
Some of the children were still very young, my father and mother were trying to run a farm and they had to put up with constant raids and harassment, some of which lasted for periods of days.
"I was forced to go on the run in 1979 and was in various places, including Dublin. I finally settled in Clones and became director of elections for Pat Treanor when he was first elected for Sinn Féin in Monaghan in 1985."


Just before dawn on the morning of 26 May 1986, Lynch and his comrade, IRA Volunteer Seamus McElwain, made their way across fields in the townland of Mullaghglass, near Roslea. On active service, they were ambushed without warning by undercover members of the notorious SAS. There was a burst of sustained gunfire.
Seriously wounded, Lynch retreated and took cover in a ditch, obscured by the undergrowth, less than 100 yards from the SAS killing zone.
In the nearby field, seriously injured, Seamus McElwain was being interrogated by denim-clad British captors who, after several minutes of questioning, executed him.
Seamus McElwain was one of 38 republican POWs to escape from Long Kesh Prison in 1983. He had successfully evaded recapture while operating along the border.
Lynch lay in the ditch for two hours as the SAS sought him out with the clear intention of killing him as well.
"At one stage the SAS were searching just yards from where I lay seriously wounded. Despite their efforts they failed to find me."
After the SAS withdrew from the area, the RUC and regular British troops were drafted in to conduct a search. Lynch was eventually found by a sniffer dog. RUC personnel began to beat him but were censured by a British Army medical officer who arrived on the scene. This officer asked them whether they would like to see one of their own members treated in such a way. After medical attention in the field, Seán Lynch was flown by helicopter to Enniskillen Hospital, where he underwent a six-hour operation for injuries to his abdomen, leg and hand. It took him two years to recover from his injuries.


After four months in Musgrave Park Hospital military wing, Lynch was transferred to Crumlin Road Jail. In December of the same year he was sentenced to 25 years for possession of explosives and a rifle and transferred to Long Kesh.
Life as a political prisoner taught Lynch many of the skills required for future revolutionary struggle. Classified as a 'Red Book' prisoner - considered high-risk by the authorities as a potential escapee or 'trouble-maker' - he was constantly shifted to different sections of the jail. At Long Kesh he was reunited with his brother, Kevin, who was serving 16 years and whom he had not seen in six years.
"When I arrived in Long Kesh it was the end of a period of defensive struggle in the prisons following the Hunger Strikes and the 1983 escape. Attempts by the authorities to criminalise the prisoners had been defeated. The IRA staff had drafted a strategy to engage in an offensive struggle to advance prison conditions. To end the constant movement of Red Book prisoners, the camp staff asked a number of men in this category to refuse their next move when asked to by the administration."
Seán Lynch was one of these prisoners. Still recovering from his serious injuries, he was forcibly removed by the riot squad team from one H-Block to another.
"I was seriously manhandled and because of the injuries I had sustained during the ambush, this treatment had an even worse effect on me. I then pursued a legal action against the NIO and won a financial settlement." 



In 1993, Lynch took over as Commanding Officer of Long Kesh, including the H-Blocks. By this time the prison administration had recognised the republicans' prison command structure. Issues were being dealt with through co-operation with the prison administration and the IRA camp staff.
"For example," Seán explains, "the end to lock-ups, and we had 24-hour control within the wings and advances in relation to compassionate parole. This period witnessed the most momentous developments in our jail struggle." 
This period also coincided with the development of the Peace Process and the IRA cessation of 1994. Lynch says there was a very close communication between republican prisoners and the outside leadership leading up to, during, and after the negotiations surrounding the Good Friday Agreement (GFA).
"When it was signed, we didn't know for sure how it would affect us. It was months later before we knew that we would be part of a process of releases. We also knew it was about more than prisoners _ we would not allow ourselves to be political hostages. For instance, one important aspect of our release under the GFA, which was an international agreement between two governments, was recognition by the British Government that we were political prisoners."
In October 1998, Seán Lynch was released under the terms of the GFA after 121/2 years. He reinvolved himself in Sinn Féin activity in Fermanagh and was elected to the officer board of what was then the Sinn Féin Six-County Cúige and subsequently as a Six-County representative on the party's ruling Ard Chomhairle. In 2005, he was director of elections for Michelle Gildernew in the Westminster elections.
"Prison was one phase of my involvement in the republican struggle and getting involved with Sinn Féin was a continuation of that struggle.
"Upon release, I returned home to Lisnaskea after a period of 18 years, it was strange after being away for so long and it did take a while to get used to the ordinary things in life again.
"The changes I noticed were less harassment, the absence of British Army and RUC saturation of the area."


With Sinn Féin engaging in policing structures in the North of Ireland, Lynch was an inspired choice for involvement in local policing structures, having decades of valuable experience within the republican struggle.
"Policing was part of the Good Friday Agreement, it was something we knew we had to deal with. After the St Andrew's Agreement of late 2006, the real debate began within republicanism on the issue. I supported the position of engaging with policing when the time was right. It was one of the most thorough debates I have ever engaged in. Ultimately, an overwhelming majority of the delegates agreed with the decision.
"It's easy to fight against something - it's much more difficult to get involved in something, shape it, change it and rebuild it. It is the same in relation to the issue of policing.
"We knew that the decisions that had been made to forward the struggle would lead to republicans taking their place on the Policing Board and on local district policing partnerships (DPPs). You can't take a decision and then back away from it."
Lynch was recently appointed as a member of Femanagh DPP and has already attended two private meetings of the body. Speaking about his appointment he admits it came with mixed emotions but believes it is a move Sinn Féin was correct in making.
"Sinn Féin have a mandate to engage in policing."
Sitting across the table from the police in the North is not easy for someone with a background like Seán Lynch's.
"I do feel some sense of anger, reflecting back on the number of dawn raids and the brutality on my own family and neighbours, including the fact that I was brutalised by members of the RUC while lying in the field after the SAS ambush.
"But, at the same time, I know I can't allow my own personal feelings to get in the way of change and progress and I understand the PSNI have their own difficulties and apprehensions with myself.
"This is a working relationship. Society needs an effective, accountable police service. We are a long way from that yet. The PSNI needs to earn the trust of the nationalist/republican community if policing is to work.
"I just see it as another stage in the struggle - no different from what I was involved in 25 years ago. The tactics are different, probably less dangerous, but the struggle is the same.
"On the DPP, I hope to achieve an end to political policing. We have to hold police accountable for their actions. We need a transparent service which works in partnership with the community.
"If people have issues with crime they should bring them to the PSNI, that is their job and that is what they are there for. But people should also hold them to account because there are numerous times when the police are not fit for purpose.
"The history of policing in the North is of a militia who were involved in fighting a war and that mentality hasn't totally gone away. One of our jobs is to demilitarise their thinking."
On his intriguing journey from active service with the Irish Republican Army to imprisonment in the H-Blocks and now as a member of Fermanagh District Policing Partnership, Seán Lynch says:
"When you join a struggle there are many situations you don't envisage finding yourself in. But in revolution you must be able to adapt to changing circumstances and while I didn't see myself in this position, it's not a great surprise to me.


Looking to the political future, Lynch is confident:
"We are in a transitional period, and in my opinion we are moving towards a united Ireland. The Six-County statelet is a failed entity and I think some unionists are coming to the same conclusion. Britain is taking less of a role in Ireland.
"The important point is that we are now in government with the DUP. We are now pushing for the transfer of policing and justice powers to the Assembly. There are big challenges before us of a social and economic nature.
"There are still contradictions and anomalies in being an ex-prisoner. We can't go to certain countries; we have difficulties getting mortgages; we can't get certain jobs; and we are still barred from the Civil Service.
"Take, for example, Conor Murphy or Gerry Kelly [respectively Minister for Regional Development and junior Minister in the Office of First and Deputy First Minister in the North's Executive]. They wouldn't qualify for a job in the lowest levels of their departments in the Civil Service because they were both prisoners, yet they are ministers. These restrictions should be expunged as we were political prisoners.
"It was the 22nd anniversary of Seamus McElwain's death just a few weeks ago and it does bring back to you the realities of the conflict. But the one thing we have to do is expend every effort so that we don't ever again slip back into conflict. We've seen what war is like and we don't want to go back there."
Part of Seán's motivation for change is to make things better for future generations.
"I have a 23-year-old son, Ciarán, and I don't want him to have to go through what I and my generation went through."
An Phoblacht Magazine
AN PHOBLACHT MAGAZINE:
Don't miss your chance to get the second edition of the 2019 magazine, published to coincide with Easter Week
This special edition which focuses on Irish Unity, features articles by Pearse Doherty, Dr Thomas Paul and Martina Anderson.
Pearse sets out the argument for an United Ireland Economy whilst Pat Sheehan makes the case for a universally free all-island health service.
Other articles include, 'Ceist teanga in Éirinn Aontaithe', 'Getting to a new Ireland' and 'Ireland 1918-22: The people's revolution'.