22 May 2008 Edition
Long Kesh plan being undermined by 'misinformation campaign'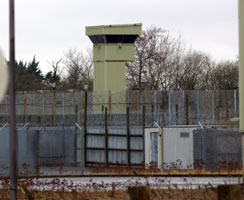 THE North's Department of Finance and Personnel (DFP) has been accused of involvement in a 'misinformation campaign' to undermine the citing of a new stadium at the site of the former Long Kesh prison.
Sinn Féin MLA Paul Butler said that in recent weeks, off the record briefings of journalists by the DFP has resulted in the public being misled about the likely costs of locating a new stadium at the Maze-Long Kesh site.
"Several articles have appeared in the press and news outlets suggesting that the cost of the new stadium has dramatically increased. These stories do not source or evidentially support the wild claims that the cost of the stadium is prohibitive. This whispering campaign is based on fanciful notions concocted by those who are intent on blocking a stadium being built at the Maze-Long Kesh", Butler said.
"The fact is that Price Waterhouse Cooper, a reputable financial consultancy firm, investigated the entire site and the projects being planned for it including the stadium and the Conflict Transformation Centre and described them as 'value for money'.
"There is only one credible location for a multi-sports stadium and that is the Maze-Long Kesh. It is the only site which has all-party support and the support of the three sporting organisations: GAA, rugby and soccer", he said.