15 May 2008 Edition
Gardaí must be more representative of community - Ó Snodaigh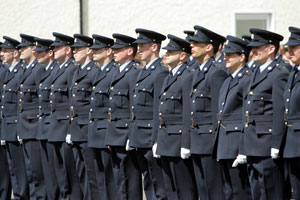 GARDAÍ must be more representative of the community they represent according to Sinn Féin Justice Spokesperson Aengus Ó Snodaigh TD.
Ó Snodaigh has sent a substantive submission to the Garda Training and Development Review Group in which he has detailed the areas of policing which Sinn Féin believes need further development.
In the submission Ó Snodaigh makes recommendations on areas such as community gardaí, Garda membership, custody regulations, policing of protests, interview policies, domestic and sexual violence, firearms and other issues.
"I welcome the opportunity to make a detailed and substantive submission to the review of Garda training and development. Last year, Sinn Féin made a substantive submission to the Garda Policing Plan for 2008 and we were glad to see that a number of our recommendations were taken on board and delivered on in the final plan. We hope that our recommendations on Garda training and development will get a similar reception.
"Among the many recommendations that I have sent to the review group is on community gardaí. Currently the position of a community garda is not an attractive post for many gardaí as it does not traditionally attract promotions or career development opportunities. This needs to be reversed. We need to see a significant increase in the number of community gardaí. The position needs to be developed into an attractive career option. However, it is critical that these positions are filled by the right candidates.
"In order to create a policing service that meets the needs of the community it serves it is crucial that An Garda Síochána becomes representative of the community it serves. This was one of Sinn Féin's recommendations in our submission to the Garda Policing Plan for 2008 and we were glad to see it included in the list of priorities when the final plan was produced. However, the measures planned address ethnic minorities only. What is glaringly absent are any measures to attract people from urban working-class communities into the Garda. This deficit must be addressed if An Garda Síochána is to be truly representative.
"Another area which Sinn Féin feels needs specific attention is on the issue of firearms. Garda firearms instructors themselves recognise a deficit in terms of tactical training. They are critical of the basic training afforded to armed gardaí. They have pointed out that in terms of initial training the PSNI undergoes 90 hours while gardaí are trained for just 25 hours. Their facilities currently do not allow them to deliver the tactical training which is necessary in real crisis situations. They are limited to little more than target practice. Steps must be taken and facilities made available to ensure that all armed gardaí undergo the highest standard of training available internationally, including robust target, tactical and judgment training."