15 May 2008 Edition
National Youth Forum on Drugs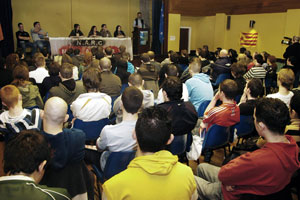 ÓGRA Shinn Féin is hosting a National Youth Forum on Drugs this Saturday 17 May at 12 noon in Dublin's Teacher's Club.
The Forum is being organised as part of the youth movement's current national drug and alcohol awareness campaign called NARC. (Not Another Ravaged Community)
The Forum will include a talk on community struggle against drugs, a debate on whether legalisation could assist in tackling the drug epidemic, the launch of a short film, and workshops on drug and alcohol awareness.
Among the contributors to the National Youth Forum on Drugs will be Sinn Féin Dublin City Councillor Larry O'Toole, a life-long community activist who has worked tirelessly on anti-drugs campaigns in Dublin, Daniel Jack a community worker from the Clonard area of Belfast who has worked on various community watch and safer neighbourhood schemes that deals with the affects of drugs on a daily basis, and Aengus Ó Snodaigh TD who is an energetic Sinn Féin and community campaigner, and also the author of Sinn Féin's document on drugs Empowering Communities.
Encouraging attendance at the event, National Organiser of Ógra Shinn Féin, Barry McColgan said:
"Drugs and alcohol are a major issue in modern Ireland, in many areas, especially economically deprived areas, drugs and alcohol have taken a stranglehold, resulting in broken families, wasted lives and disempowered communities. These are major issues which we as a society need to collectively debate and re-dress."
"The youth forum on drugs will act as a platform for activists and members of the public to air and debate their opinions on this crucial issue. It will also be an opportunity to learn from experienced community activists who have worked in confronting the plight of drugs."
"Drugs and alcohol misuse and abuse are a huge problem facing our youth and communities, and it will be a difficult challenge for us to overcome. However republicans are up for the challenge, and youth forums that bring together many activists can play a positive role in energising and informing activists of the way forward. I would ask that you come along on Saturday and take up the challenge in the campaign for Not Another Ravaged Community."