15 May 2008 Edition
West Belfast Community Safety Forum announced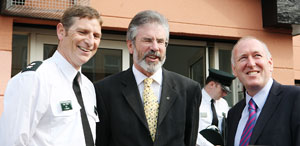 A WEST Belfast Community Safety Forum was announced this week by local MP Gerry Adams and British Direct Rule Minister Paul Goggins, who still has responsibility for policing and justice matters in the North.
The forum has been modelled on the Upper Springfield Safer Neighbourhood Forum.
Adams and Goggins have been meeting regularly in recent months to discuss the issue of crime and community safety in West Belfast and steps to effectively tackle it.
At Monday's launch, Gerry Adams acknowledged the frustration and anger that exists about the level and consequences of anti-community and criminal activity from a tiny minority, including the recent brutal murders of Harry Holland, John Mongan and Frank McGreevy. Members of all these men's families were present at the event. The Sinn Féin president commended all of them for "the great dignity they have shown following the murder of their loved ones and their commitment to stand against the thugs responsible". He continued:
"All of us – parents, policing and justice agencies, educators, the media, public representatives – have a duty, a responsibility to deal with crime and anti-community behaviour."
He said that following the murder of Gerard Devlin and the fighting that took place between two gangs in that area, the people of the Upper Springfield, along with Sinn Féin representatives, developed an inclusive partnership approach which has made a real difference.
"Of course, it has been a learning experience for all involved, not least for local people and the policing and justice agencies.
"In the past, the relationship between the local community, the RUC and the criminal justice system had been confrontational and hostile. The creation of the PSNI and the changes to policing and justice brought in over years of negotiations have created a new climate in which a partnership approach has become possible,"
IMPORTANT STEP
Adams commended all those who have worked very hard to ensure that the Upper Springfield Safer Neighbourhood Forum and Intervention Project have been successful in tackling crime, improving relations between the community and the PSNI, and in creating a safer environment for residents and those who work every day in the communities and voluntary sector, in schools, youth sector and sporting organisations, sometimes in very difficult circumstances.
Sinn Féin, he said, has been working closely with many of those at the event to develop a strategic approach which would see the Upper Springfield model extended across West Belfast and elsewhere where similar issues exist.
"Today's announcement is an important step along that road," the Sinn Féin president said. "The West Belfast Community Safety Forum and the resources announced today have the potential to make a real difference in people's lives.
"It will require the dedication and commitment of all of those who are involved with it, and it will need the statutory agencies – Belfast City Council, the Department of Social Development, the Departments of Health and Education and others – to especially look closely at how this project can be properly financed and resourced and sustained."
And if anyone was in any doubt as to what he was saying, Gerry Adams added:
"There should be no penny pinching."
He said that such initiatives require long-term resources and citizens have the right to expect sustainable funding for the project.
"This community safety forum approach has the potential to reduce crime, reduce anti-community behaviour, improve community life, including the health of citizens, and of saving money currently spent, for example, on supervising the 500 people from West Belfast who are currently on a range of community-based orders.
"It will need to look at measures designed to curb street-drinking and under-age drinking, illegal drugs, and how to tackle the problem of repeat offenders.
"There is also a need to invest greater resources into youth provisions and safer play areas.
"I would appeal therefore to anyone concerned with these issues to join their local safer neighbourhood project, or if none exists to help put one in place.
"I would appeal to everyone who should be involved in the West Belfast Community Safety Forum to do so enthusiastically.
"Let's make it the success that we all want it to be and provide a positive example to other communities facing similar difficulties that it is possible to make things better."