15 May 2008 Edition
Major campaign to regenerate the West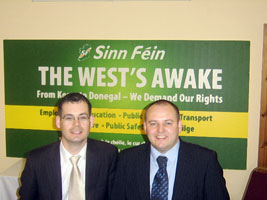 SINN FÉIN Senator Pearse Doherty and Kerry North TD Martin Ferris this week launched a major campaign around the regeneration of the west of Ireland. The title of the campaign is 'The West's Awake – From Kerry to Donegal we demand our rights.'
The Sinn Féin representatives are calling on all political parties and organisations in the west of Ireland to come together to agree a platform to ensure the survival of the West.
Senator Doherty is producing an official report for the Oireachtas Committee on Community, Rural and Gaeltacht Affairs on what is required to develop the west of Ireland. The report will be presented to the committee before Christmas.
Beginning in Donegal last Monday, Senator Doherty and Deputy Ferris are holding meetings in every county from Kerry to Donegal to allow local communities to have their say. Among those they want to meet over the coming months are farming groups, local community development organisations, the GAA, chambers of commerce, trades councils, postmasters and postal workers unions, gardaí, the Irish Country Women's Association, Macra na Feirme, youth groups and others.
During the summer they intend to hold public consultation meetings in towns and villages across the west. Anyone who wishes to make a written submission on what needs to be done to ensure the survival of the west should e-mail it to
[email protected]
oireachtas.ie
AGREED PLATFORM
Pearse Doherty said:
"At the Sinn Féin Ard Fheis this year I spoke out on the need for elected representatives from all parties and all organisations representing the west of Ireland, from Kerry to Donegal, to come together to agree a platform to ensure the survival of the West.
"The west of Ireland is suffering death by a thousand cuts. Recent years have seen the loss of traditional farming, fishing and manufacturing jobs, the closure and running down of public services, the withdrawal of public transport and the closure of rural schools, shops, pubs and Garda stations. It is time to fight back.
"People in the west of Ireland have a right to share in the prosperity of the state. They have a right to a decent job, have a right to proper transport links, a right to adequate public services and a right to all of the amenities that allow you to live a full life. But none of this will happen by chance.
"The Government has not made any serious effort to regenerate the West. The election of a Taoiseach from rural Ireland is an opportunity for change. If everyone who really cares about the West comes together and demands change we can put pressure on the Government to act. Together we can put the west of Ireland at the top of the political agenda."
In the past week, campaign launches took place in Donegal and Clare. Launches will also take place in Sligo/Leitrim and Roscommon on 16 May, in Kerry on 19 May, and in Galway and Mayo on 22 May.