15 May 2008 Edition
SIPTU supports Sinn Féin motion on agency workers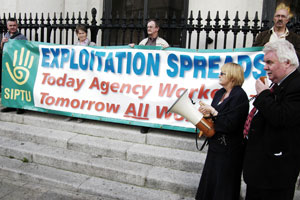 A SINN FÉIN motion calling for government legislation to protect agency workers' rights – supported by SIPTU -–has been passed by Dublin City Council this week. The motion was passed with the support of all councillors except the Progressive Democrats' sole member.
Sinn Féin Dublin City Councillor Larry O'Toole welcomed SIPTU's decision to hold a rally outside City Hall on the night of the vote (Monday, 12 May) in support of his motion.
Larry O'Toole said after the vote:
"Dublin City Council is calling on the Government to immediately introduce legislation based on the principle of equal treatment of all workers.
"Agency workers are being used in this state to under-cut the wages, terms and conditions of the traditional permanent workforce. The Government has continually promised legislation to deal with this problem but has constantly failed to deliver. This has led to the exploitation of agency workers.
"Agency employment should not be used as an unnecessary substitute for direct employment or as a mechanism for avoidance or undermining of fair play and conditions.
"The failure of the Government to legislate for the principle of equal treatment has resulted in employees being denied their rights and entitlements such as sick pay, holiday pay, overtime and rates of pay equivalent to full-time staff. The practice is also resulting in the displacement of directly-employed workers and the driving down of wages in a number of sectors including services, hotels and the construction industry.
"Sinn Féin is working closely with the trade union movement on this issue as part of our campaign for 'Equal Pay for Equal Work' to ensure that the Government fulfils its obligation to protect the hard-won rights of all workers."
Motion in the name of Dublin City Councillor Larry O'Toole, Sinn Féin
THIS council notes the increase in agency employment throughout the economy. We are aware that many workers from home and abroad are offered agency employment when they are seeking permanent and direct employment.
We understand trade unions have raised concerns that many of these workers are retained on minimum conditions and in some cases are not receiving all their entitlements.
Agency employment should not be used as an unnecessary substitute for direct employment or as a mechanism for avoidance or undermining of fair pay and conditions.
Noting that legislation will come before the Oireachtas on the issue of agency employment, this council believes and will recommend to the Minister that the principle of equal treatment should be included in any such legislation on this issue.