15 May 2008 Edition
400 attend third Annual Cairde Sinn Féin Dinner in Belfast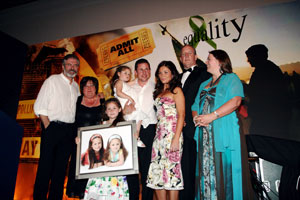 Gerry Adams celebrates 25 years as president of Sinn Féin
THIS YEAR'S third Annual Cairde Sinn Féin Dinner, held in the Europa Hotel, Belfast, on Saturday, 10 May, was a highly successful event.
The well-attended function attracted up to 400 guests who were joined by Stormont ministers Michelle Gildernew, Conor Murphy, Caitríona Ruane and junior minister Gerry Kelly.
Deputy First Minister Martin McGuinness delivered an engrossing speech in which he charted the recent history of republicanism from the events of 1968 until the present day.
McGuinness's speech was particularly interesting as he recounted the events of the last year since the re-establishment of the Stormont Executive and his work with Ian Paisley, who is soon to stand down as First Minister.
As this year sees the 40th anniversary of the Civil Rights movement it was particularly poignant that McGuinness delivered the speech.
It was also significant that Michelle Gildernew joint-hosted the evening with Bobby Storey as one of the most seminal incidents of the Civil Rights struggle involved Michelle's family.
Reacting to the discrimination in housing allocation, the Gildernew family, led by her Granny Nana, squatted in a house in Caledon which had been allocated to a single Protestant woman.
The actions of the Gildernews exposed this plank of the discrimination against Catholics in the North and added momentum to the Civil Rights campaign.
The auction that is part of the Cairde gala dinner saw lots of both an artistic and historical nature go under the hammer.
Among the items were an original Robert Ballagh print, In Memorium; a Volunteer Service Medal from the Tan War; a Tyrone Crystal Sam Maguire replica; as well as an original An Phoblacht from 1981.
Sinn Féin Assembly member Barry McElduff was auctioneer for the night and, given his loquacious manner, he managed his job quite well.
Saturday night was also a night for a special presentation.
This year sees Gerry Adams mark 25 years as president of Sinn Féin. And as anyone will agree, those 25 years have been momentous years.
Although a national figure prior to his election, Adams took office in the aftermath of the prison struggle and the Hunger Strike, an era that saw the party wrangle with electoral intervention, shoot-to-kill and collusion by the British crown forces, censorship and attempts on Adams's own life.
As a mark of the esteem in which Adams is held, messages of solidarity were broadcast from the Cuban Ambassador to Ireland, Noel Carrillo; and Ronnie Kasrils, of  the African National Congress and South African Government minister. Other messages of support from the United States were also read out.
The presentation to Adams, who was joined on stage by his wife, Colette, son Gearóid, daughter-in-law Roisín, and grand-daughters Drithle and Luisne, was a portrait of his granddaughters.