15 May 2008 Edition
Invest in the future - Invest in Sinn Féin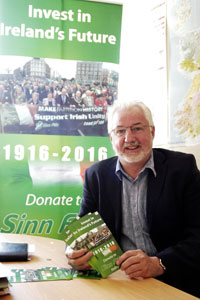 SINN FÉIN'S Finance Department has launched a new campaign to put the party on a firm financial footing through monthly donations to the party by Standing Order.
Sinn Féin Director of Finance Des Mackin outlines the reason for the initiative and its importance as a means of securing vital resources while enabling people to make a real contribution to the republican project.
THE last elections cost the party a lot of money and since then we've been attempting to build the organisation, particularly in the South, to prepare ourselves for the Lisbon campaign and the 2009 local and European elections. We want to resource our political programme and we have to look at ways of funding initiatives.
Over the years, Sinn Féin has been effective in maintaining itself but with difficulty and our political project has been limited for want of resources. At the moment, a significant amount of Sinn Féin's income is derived from its elected representatives. They contribute in their generosity and commitment to the struggle in forwarding the bulk of their salary to the party, which in turn allows us to employ activists and organisers throughout the country.
For example, Martin McGuinness would be on a salary of £113,000 (€142,112)  but he only takes the average industrial wage for himself, which is the equivalent of about £501 (€630) per week; the rest he contributes to the party. This allows us to fund at least two more activists who earn exactly the same as the deputy First Minister. As Martin McGuinness said himself at a dinner recently: 'The taxman gets the bulk of my wage and Sinn Féin's Director of Finance Dessie Mackin gets the rest.'
The party membership know about all this but perhaps don't know the magnitude of the contribution being made by our elected reps, some of them working 16 or 17-hour days.
Our party, unlike other parties, doesn't have access to big business. We're different from other parties in that all our fund-raising, apart from contributions from elected representatives, is localised. We're funded from the bottom up and all our offices at comhairle ceantair level are funded locally throughout the country.
Centrally we have the National Draw, election appeals and dinners which help fund the party at national level but  we're limited in what we can do nationally in that we don't want to cut across fund-raising activities at local level. Now we've established a system whereby people can contribute directly. This is a Standing Order arrangement through which people can contribute to Sinn Féin on a monthly basis. We're asking people to sign up for a minimum of €10 a month. This allows people throughout the country to contribute in a very real way to the party's development.
The Standing Order method won't hurt localised fundraising and is very cost effective, not just in terms of money but also in terms of time and effort in that all it involves is signing up and there's no administration costs either. It allows people who may not have the time or the capacity to contribute to republicanism in other ways to make a practical input.
Very often we get people ringing Head Office asking what they can do to help. Well here's a very real way in which they can assist. You don't have to be wealthy to contribute. No matter how small or large the amount contributed it will help us to secure the resources needed to develop the party.
We rolled out the Standing Order project at the last Ard Fheis and we're very encouraged by the take-up. We want to thank people very sincerely for that. This campaign extends to England, Scotland and Wales. We really have to step up the game in the communities we represent, in the elected institutions and also in our fund-raising because without the funding we can't get the resources. If you don't have the resources your impact is limited. We're asking people to make a real difference and sign up to the Standing Order campaign. 
TO sign up to the Standing Order campaign, contact National Treasurers Treasa Quinn or Margaret Adams.
Contact details: [email protected] and [email protected] Phone 01 873 5546 or 0489 023 5333