8 May 2008 Edition
Ballinasloe marks Bobby Sands anniversary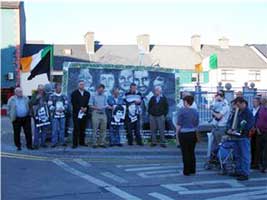 SINN FÉIN Councillor Dermot Connolly gave the oration at a commemoration in Ballinasloe, County Galway on Bank Holiday Monday to mark the day that Bobby Sands died after 66 days of protest in 1981.
He called on all the people of Ireland to remember the past, but work for the living.
"From the Fenians of old to the youth of today, there is a part for all to play in creating an Ireland of Equality, Justice and Freedom that Bobby Sands died for. That part is needed more than ever in the towns and parishes of County Galway", Connolly said.
Guest speaker on the day was Séanna Walsh, a close friend of Bobby Sands.