8 May 2008 Edition
Morgan welcomes opening of new Boyne Visitor Centre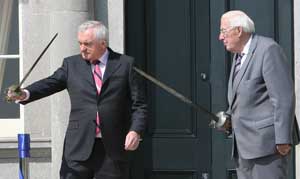 Speaking after attending the opening of the new Boyne visitor centre by Bertie Ahern and Ian Paisley on Tuesday, Sinn Féin TD Arthur Morgan welcomed the significant media attention on what should be a hugely successful tourist attraction.
"While acknowledging the significance of today's event for both Bertie Ahern and Ian Paisley I want to also highlight the significance of this fine new visitor centre here at the Boyne Valley", he said.
New tourist attraction
"The significant media attention on today's event was a welcome opportunity and a fine launching pad for this new tourist attraction and I hope this translates into a successful operation of the centre.
"The Boyne Visitor Centre with its historical significance should have the capacity to attract many tourists which will have a positive effect on the local economy of the surrounding towns", Morgan said.