24 April 2008 Edition
Ballykissane tragedy remembered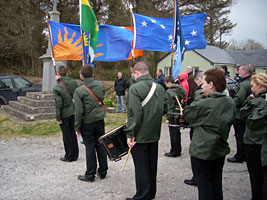 By Lynn Ní Bhaoighealláin
THE 2008 republican commemoration at Ballykissane, County Kerry took place last weekend and was a particular success following efforts by local republicans to reinvigorate the event commemorating the deaths of Conn Keating, Donal Sheahan and Charlie Monaghan at Ballykissane pier on 21 April 1916 as they attempted to assist the importation of arms on board the Aud for the 1916 Rising.
A leaflet was issued to every household in Killorglin and it was apparent that many people were unaware of the tragedy.
Republicans in South Kerry also set about trying to find relatives of the three men and succeeded in locating Donal Keating, nephew of Conn.  Donal was very proud to have the opportunity to lay a wreath for his uncle as the last time he was at Ballykissane was when the monument was erected many years ago.
The Smith/Hehir/Harford/ Doherty/Bell Republican Flute Band created a great atmosphere as marchers made their way through the town to the pier where Martin Ferris TD addressed the crowd which was a huge increase on previous years' attendances.
Ferris's rousing speech dealt with the 'what ifs' surrounding the events of that night.  'What if they had succeeded in seizing the radio station?  What if they had diverted the British Navy? and What if the Aud had landed safely?
Ferris then spoke of the current situation, the work that needs to be done by republicans to achieve a united Ireland and the duty that lies with everyone to see the aims of Conn, Donal and Charlie finally realised.