24 April 2008 Edition
Matt Treacy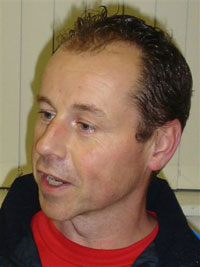 Half-wits and barbarians
IT IS often remarked that the Dublin football team is over-hyped. Indeed that there is no substance at all to the team other than the gas and wind generated by the media. Which must be pretty powerful stuff given that Dublin have made the last four in the championship for the past two years and been in the shake-up every year for the past six. Not good enough to win it but not too far off.
But that there is hype is undoubtedly true. The Dubs sell newspapers and the Dubs are fodder for the capital's 'music' and 'chat' radio stations which provide a platform for idiots to talk nonsense about things they know nothing about.
For regular Dublin GAA folk, it is mostly an unwelcome intrusion into our world. The heart of Dublin GAA is the clubs and the matches and the fiercely passionate and knowledgeable folk who pack Parnell Park and other venues during the winter and spring. They are there too, of course, in the summer but seemingly overwhelmed by the day-trippers, mostly harmless, and drunks for whom Dublin is another entertainment that begins in June and usually ends in August. In reality, most have some connection to the GAA otherwise they wouldn't get tickets. You can have the rest.
Not that Dublin is unique, of course. The Limerick and Cork hurlers get crowds of less than 2,000 for home league games but can half-fill Thurles or Croke Park in the summer and autumn. And they're not all pleasant company either. Most of them are but so are most Dubs. It's the obnoxious ones that stand out, of course.
Hype is a two-way sword, although to be honest I cannot see what benefit it brings to Dublin as the allegedly favourable coverage while they are doing well is generally at about the level of Hello magazine and bears little relationship to the team's actual prospects. Then again, I doubt that the Dublin team pays much heed to it, nor do real supporters who, I can assure you, are the least optimistic of any you can meet. Enthusiastic and passionate, yes, but with as about as cheery a view on the prospects of winning an All-Ireland as a Beckett character buried up to their neck on a beach with the tide coming in.



THEN there is the downside of the hype. The same papers and the same dumbed-down radio stations and dumbed-down journalists turn on them the minute things go wrong. No better illustrated than the hysterical nonsense that followed the Dublin v Meath match in Parnell Park last Sunday, which warranted at least one editorial, no less, in a paper that is happy to fill pages and pages with happy-clappy Dublin stuff in the summer.
A newspaper editorial about a bit of a dust-up in a football match in which there wasn't a broken finger or a broken nose. Hello!
And half-wits ringing other half-wits on air to decry what happened as the end of the world as we know it. Which would make no never mind of course were it not for the fact that the leadership of the GAA seems to react to any such incident by over-reacting. In whose interests? Ours or people who hate us anyway and for whom it is nothing more than further grist to the mill?
Maybe they might be better off asking RTÉ why, unlike the excellent TG4 and Setanta, they haven't shown one live GAA match since the end of the senior championship last year. Usually the RTÉ Sunday TV news covers the riveting exploits of 'City' and 'Boro' – whoever the feck they are (Mullingar City maybe or Termonfeckinboro?) – before moving on to the mundane doings in the national football and hurling leagues. But, of course, they have cameras there to film a bit of pushing and shoving. And every little incident becomes a crisis. 'Semplegate', no less. Remember that? The world stood still. The president resigned, I think.



MAYBE it's about time the GAA stopped allowing its agenda to be set by enemies of the association. By all means implement the set punishments, which when I last checked is one month for a straight red card – not a lottery to be set according to how dreadfully embarrassing it all is. Or maybe they should let callers to Newstalk or Joe Duffy decide?
In all, 16 suspensions were handed down, eight to each team and a €20,000 fine to each county board. They can use that to improve facilities at Croke Park for the soccer team: the one that's allowed train there when the club finalists are not. The one-month suspensions mean that Dublin will be fielding severely under strength for Saturday's league final but, more importantly, the two-month suspensions on Whelan, Connolly, Flynn and Brogan mean that they will also miss the first round Leinster championship match against Louth on 8 June.
Meath are in an even worse predicament as all eight players suspended will miss their opening championship match against Carlow in May and FIVE will also miss the quarter final against Wexford if they manage to win the first round. So apart from boosting the slim hopes of Louth and Carlow, the GAA has certainly hit out hard.
Trial by video is back with a vengeance.
Well at least the phone-in radio audience will be happy. Civilisation has been saved and the barbarians of Dublin and Meath have been put in their place. Although if justice was served they would be relegated to Division Four and made play their championship matches with ten men. And they'd probably still end up in the Leinster final!