24 April 2008 Edition
Ferris in West Cork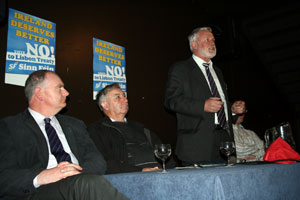 MARTIN FERRIS, Sinn Féin's Agriculture and Rural Affairs spokesperson and TD for North Kerry was in West Cork last Thursday.  During the day long visit Ferris engaged in a series of media interviews and meetings with local community groups and organisations before addressing a public meeting at the Bantry Bay Hotel, on farming, fishing and rural issues as well as the Lisbon Treaty.  It was the first in a series of visits that Ferris and Senator Pearse Doherty will make to counties along the west coast as part of the party's campaign for the revitalisation and regeneration of the West of Ireland.  
In Bandon Martin Ferris met local community activists at the Deerpark Community Centre in the town, before meeting fishing representatives from the nearby coastal town of Kinsale.
During a lengthy interview on local radio station C103FM in which he received a great response, Ferris articulated the Sinn Féin's advocacy of a No vote in the Lisbon Treaty referendum.  This was followed by an extensive interview with the Bandon Opinion magazine and a meeting with Sinn Féin Mayor of Bandon, Councillor John Desmond.
In Clonakilty, Ferris was greeted by Sinn Féin town councillors Paul Hayes and Cionnaith Ó Súilleabháin and held meetings with several groups during the afternoon. Among these were a vociferous group of local inshore fishermen who outlined in detail the negative impact of government and EU policies and bureaucracy on their industry and livelihoods. He also met with representatives of frustrated local food producers who want to establish an outdoor market in Clonakilty but have recently been refused by a majority vote of the Town Council. A representative of Clonakilty Macra na Feirme outlined the challenges facing young farming people, and representatives of  Ring Rowing Club  outlined how lack of funding is prohibiting such clubs from reaching their potential.
From Clonakilty, Ferris travelled to Skibbereen, where Sinn Féin Councillor Donnchadha Ó Seaghdha introduced him to locals as they canvassed for a No vote in the Lisbon Treaty referendum and received a positive response from those he spoke to.
The West Cork tour concluded in Bantry where around 50 people attended a public meeting addressed by Martin Ferris. Chaired by local Town Councillor Tim O' Leary, Ferris outlined how successive government and EU policies have led to the decimation of services in rural Ireland – post offices, schools, Garda stations, pubs and shops. He said issues like unfair restrictions on rural planning mean that rural communities are under even more pressure.  Small farming communities, he said, are now practically extinct and fishing is also the preserve of the wealthiest. He passionately spoke in favour of a No vote, saying how millions of people in the other EU states are looking to Ireland to reject the treaty so that it can be renegotiated in favour of democracy and accountability. By voting No, the people of Ireland are not rejecting the EU but are saying they want a more democratic, accountable EU that should work for the people. Voting against Lisbon, he said, is also a rejection of the militarisation of the E.U. and saying that each country should still control their own affairs, and co-operate in areas of mutual interest and benefit.
Paul O' Connor, Director of the Lisbon Treaty Campaign for Munster also gave an informative presentation on the Lisbon Treaty and why Sinn Féin is advocating a No vote in the upcoming referendum.  There was a particular emphasis on why the Lisbon Treaty is a bad deal for rural Ireland.