24 April 2008 Edition
Adams meets Goggins on Safer Neighbourhood Project for West Belfast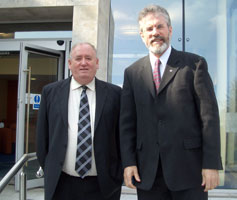 GERRY ADAMS and Sinn Féin colleague Fra McCann MLA met again last Tuesday, with  British Direct Rule Minister Paul Goggins to discuss Sinn Féin proposals to extend the Upper Springfield Safer Neighbourhood model for community safety across West Belfast.
The meetings are part of Sinn Féin's wider initiatives to deal with Policing and Community Safety issues following the murders of Harry Holland, John Mongan and Frank McGreevy.
Speaking afterwards Adams acknowledged that some progress has been made in discussions and further meetings are planned.
Sinn Féin put proposals to Goggins two weeks ago, including establishing a West Belfast Safer Neighbourhood Forum, and allocation of resources for additional staff and structures, and sustaining existing community safety and youth intervention projects. "Sinn Féin's priority is to ensure that the people of West Belfast live in safe neighbourhoods with access to a proper and accountable policing service, a criminal justice system and statutory agencies dealing efficiently with their needs.
"Extending the Upper Springfield Safer Neighbourhoods project to West Belfast and Belfast makes sense", Gerry Adams said adding that he is hopeful that the meetings with Paul Goggins and others can result in more progress in the next two weeks.