24 April 2008 Edition
'Dial to Stop Drug Dealing' roll-out welcomed in Limerick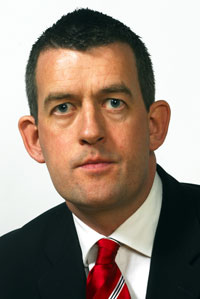 LIMERICK Sinn Féin spokesperson Maurice Quinlivan has welcomed confirmation from Justice Minister Brian Lenihan that the 'Dial to Stop Drug Dealing' initiative, successfully piloted in the Blanchardstown area of Dublin, is to be rolled out locally with particular reference to Limerick.
Quinlivan originally called on the Government  more than a year ago to introduce 'Dial to Stop Drug Dealing' in Limerick as a matter of urgency when the success of the pilot scheme became apparent. Now the initiative is to be spread in other regions in consultation with local and regional drug task forces.
Welcoming the confirmation which was received in a written Dáil reply to Sinn Féin, Quinlivan said:
"In the context of rising drug crime in Limerick, I asked my party colleague Aengus Ó Snodaigh TD to table a Dáil question urging the minister once again to  roll out the 'Dial to Stop Drug Dealing' project without delay in Limerick.
"I have been asking for the scheme to be rolled-out since November 2006 in light of the success of the Blanchardstown pilot project."
"Sinn Féin has consistently called for a state-wide roll out of the project. I have had at least three Dáil questions asked on my behalf on the issue.
"The minister has eventually agreed to our demand."
The Justice Minister indicated that the National Drugs Strategy Team is now finalising plans to roll out this initiative throughout the state. He also specifically indicated that Limerick would be considered as part of this roll-out.
Maurice Quinlivan added:
"I firmly believe this scheme will enable communities to fight back safely against the drugs menace which has plagued our city for far too long. It will unnerve the dealers and criminal godfathers and hopefully lead to greater success in the fight against drug and gang crime.
"People in Limerick are sick of these gangs and this can become a valuable tool in the fight against them."
Maurice Quinlivan said that the 'Dial to Stop Drug Dealing' campaign in Blanchardstown empowered local people in reporting drug-related activity without fear of being identified.
"There unfortunately exists a gulf between the Garda and some communities in parts of Limerick for a variety of reasons and this anonymous, non-Garda phone line should help to bridge that gap.
"I welcome the minister's commitment to this. It is imperative that the minister now makes the necessary funding available with utmost haste to facilitate this roll-out."