24 April 2008 Edition
West Belfast rally reclaims Colin Glen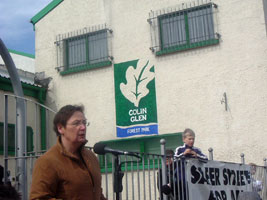 By Laura Friel
HUNDREDS of people gathered at Colin Glen Park on Saturday afternoon in solidarity with a young American visitor who was brutally assaulted and raped. The attack happened in broad daylight the previous weekend. A 15-year-old male has subsequently been arrested and charged.
A call to the community to reclaim the park as a safe venue for families had come from Sinn Féin President Gerry Adams MP who joined local residents in a mass walk through the park.
Speaking at the rally, Sinn Féin MEP Bairbre de Brún voiced local anger at the attack and reflected on the ongoing ordeal of the young woman targeted as she moves towards recovery.
Rape is a particularly insidious crime which attempts to destroy the dignity and self-worth of the victim, de Brun said. Such criminality will be rigorously challenged, especially by a community like West Belfast which is "no stranger to trauma and marginalisation".
The park was a community resource and the community would not allow criminal elements to deny ordinary people access, she said. "We have a right to feel safe."
NEEDS OF CITIZENS
Addressing the crowd, West Belfast Sinn Féin MLA Jennifer McCann said the criminal justice system needs to be responsive to the needs of citizens and must ensure it takes all the necessary measures in order to protect them.
"Criminals who murder, rape or assault people, or who sell drugs to our young people or supply under-age young people with drink, must face the full rigor of the criminal justice system. This must include introducing more stringent bail conditions to target repeat offenders."