24 April 2008 Edition
Progressive Democrats slipping towards political abyss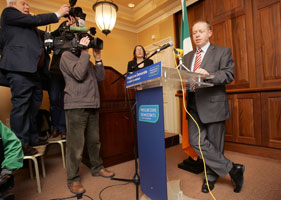 Cannon fodder

By Robbie Smyth

NEW Progressive Democrats leader Ciaran Cannon has given himself 14 months to transform the dying party's fortunes, setting a target of increasing the PDs' council seats from 28 to 35 in next year's local elections.
Cannon's plan is surprisingly practical. He will "walk the highways and byways" and will consult party members on formulating strategy, promising "a raft of new policies". Cannon says the Progressive Democrats have "not been successful in selling the party", admitting that: "We have allowed ourselves to be pigeon-holed as right-wing and uncaring."
Cannon seems to want to delude the public into forgetting who the Progressive Democrats actually are and what they have done for the 13 years spent in government since 1989. His marketing strategy presents as a bad copy of Enda Kenny's post-2002 Fine Gael rebuilding programme.
Are we really to forget the tax cuts for the rich, the privatisation of state resources to their fat cat business friends, the endless McDowell rants and the policy failures on providing a basic healthcare, education, transport... (put your own words here)... service.
Then there are the other delusions about Cannon's election victory, where 60 per cent of Progressive Democrats members didn't even bother voting, where the two most senior party members, Health Minister Mary Harney TD and Galway West TD Noel Grealish refused to stand. Grealish has openly admitted to considering joining Fianna Fáil while Harney has not yet committed herself to running in the next Leinster House election.
Self-interested career politicians are nothing new but how can Cannon lead a party whose political strength is being asset-stripped by its remaining founders, hanging on to ministerial privilege and ever-growing taxpayer-funded pensions without pulling their weight to save the sinking party.
How can Cannon talk about travelling Ireland to meet party members and the public to discuss new party policies when he has agreed to defer to Mary Harney on the crucial issue of health policy, so the new bottom-up policy formulation is conditional – no change there for the PDs in how they do business.
Cannon believes that the Progressive Democrats have allowed themselves to be pigeon-holed as uncaring. Could it be possibly because they are?
He only joined the party in 2003 but at 42 he may have read the comments of former leader Michael McDowell who believed that "an economy like ours demands inequality" and that "inequality is inevitable", that free healthcare like a GP service is "a loony left idea".
At his 'unveiling' as new PD leader, Cannon talked of borrowing for investment, and at the 2007 party conference he talked of halting the decline of rural Ireland, yet in recent weeks he has demonstrated the now familiar PD knee-jerk competition mantra, attacking Dublin's local authorities for seeking to amend waste management regulations and he called for fast-tracking of private sector competition on Dublin Bus routes.
And then what did the PDs do for rural Ireland over 13 years in government, other than Michael McDowell building himself a holiday home?
Cannon talks of needing new policies yet surely the now 11 continuous years of PDs in government should be a recipe for success? And here comes the big PD lie... they had achieved their goals and "changed political thinking" and now simply had to return to basic principles and dream it all up again.
It all sounds nice except there were no PD principles, there was a bit of borrowed Thatcherism added with a lot of personal ambition, particularly that of Des O'Malley, Harney and Michael McDowell, who had to have a special title made for him as party president when Harney remained as the actual party leader.
Then there was the vital ingredient in the success of the Progressive Democrats – a willing print and broadcast media who gladly allowed the party fill their talk shows and opinion pages as contributors and even glossy magazine shoots.
All of this will be of little solace to Ciaran Cannon. He might think back to the predicament faced by Mary Harney in 2004 when she couldn't even get candidates to stand in the EU elections.
The PDs have never done local politics except in the few constituency organisations they inherited in Galway and Limerick and the Parlon effect in Laois/Offaly, so how will Cannon turn this around?
He won't. As much as O'Malley saw himself as the wronged Mark Anthony and McDowell was a great Nero, Ciaran Cannon's role is only to perform the last rites on this divisive, bitter party and declare the time of death. Enda might give him the nod after next June though and he could saddle up with Fine Gael. We always need cannon fodder.