24 April 2008 Edition
HSE plan 'death sentence' for Monaghan Hospital with 'sentence of hard labour' for Cavan General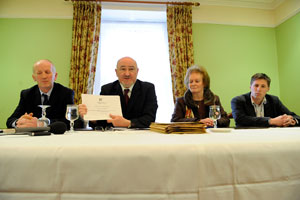 BY MÍCHEÁL Mac DONNCHA
SINN FÉIN Health spokesperson and Cavan/Monaghan TD Caoimhghín Ó Caoláin last weekend obtained the leaked plan by the Health Service Executive to end acute inpatient care at Monaghan General Hospital by November 2008, closing Monaghan's 50 inpatient beds, six critical care beds and transferring all inpatient and critical care to Cavan General Hospital without increasing bed numbers in Cavan.
"A death sentence for Monaghan General Hospital and a sentence of hard labour for Cavan General Hospital" is how Deputy Ó Caoláin described the plan as outlined in an internal HSE document entitled North East Transformation – Detailed Planning. This is an interim report with a final report detailing plans for hospitals in Louth and Meath due in June or July.
The Sinn Féin Dáil leader called a press conference in Monaghan town on Monday which was attended by RTÉ television and the local media. He was joined by HSE North East Forum member Councillor Brian McKenna, Councillor Matt Carthy and Méara Bhaile Mhuineacháin Pádgraigín Uí Mhurchadha.
Responding to the leaked document, the Sinn Féin Dáil leader said:
"With this document we have before us the plan by the Health Service Executive to finally close Monaghan General Hospital as a hospital and to downgrade it to a Minor Injuries Unit.
"This plan will mean that by Christmas 2008 we will see the end of a hospital that has served generations of people in Monaghan down to the present day.
"There are currently 3,000 acute medical admissions to Monaghan General Hospital per annum. By the end of November this service will have to be provided by Cavan General Hospital which already has to cater for 5,000 acute medical admissions per annum and has 160% bed occupancy. And this is to be done under this plan without a single extra bed being provided in Cavan.
"Consultants at Monaghan General Hospital have stated in correspondence to the HSE that such a move would create a 'catastrophic situation' for patients and that deaths may well result. The consultants' appeal not to proceed with such a plan was made on the assumption that an additional 25 beds would be provided at Cavan. The plan revealed today presents an even worse scenario with no extra beds provided to deal with the enormous additional burden on Cavan.
FRAUDULENT
"This report is fraudulent in its claim that it 'reflects input from engagement to date with clinical and operational management'. Clinical management at Monaghan is clearly in total opposition to this plan yet their view is nowhere reflected in the report. The healthcare professionals at Monaghan have told the HSE that since returning 'on-call' in 2005, the hospital has functioned very well and provided a high standard of care to patients with acute medical illnesses. This reflects the positive experience of the overwhelming majority of people in the area served by the hospital.
"Now the HSE wants to wield the axe by closing 50 acute medical beds at Monaghan, closing the 6-bedded high care unit, transferring acute care to Cavan and replacing the beds in Monaghan with 26 non-acute beds. It says it has not determined the 'optimum use' of the remaining 24 bed spaces at Monaghan.
"Even going by the figures presented by the HSE in this plan, 60% of patients who currently present at the Monaghan Treatment Room will now have to travel to Cavan. 11,000 attendances per annum and 3,000 return attendances at the Monaghan Treatment Room are deemed insufficient by the HSE to keep the facility open. It seems that in the strange world of HSE higher management not enough people are having accidents and emergencies in Co. Monaghan.
"This plan is based on the lie that patient care will actually improve after the destruction of Monaghan General Hospital because there will be greater provision of non-acute care, rehabilitation, respite, step-down etc. Yet the report states that 'additional funding is not available to implement these service changes'. We are being told there will be additional non-acute care at the same time as the HSE is imposing cuts on such care. More primary care is promised yet there is a GP shortage in this region.
"This plan is a death sentence for Monaghan General Hospital and a sentence of hard labour for Cavan General Hospital. It must be opposed in the strongest possible manner by the entire community and every elected representative must be called to account. The only appropriate place for this plan is the shredder."