24 April 2008 Edition
Public are committed to process and want it to work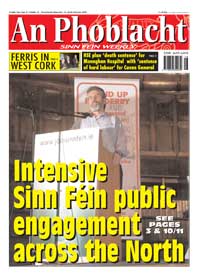 A FORMER Ulster Unionist member, who now works for a Church of Ireland reconciliation group, took the unusual step of openly praising the series of public meetings that the Sinn Féin Cuige Uladh has held over recent weeks.
Earl Storey attended the Guildhall meeting in Derry, along with around 500 others, to listen to a panel from the Sinn Féin leadership outline the party's assessment of progress in the last ten years of the Good Friday Agreement, and then take questions from the floor.
The Derry meeting was one of nine 'Townhall' meetings which started in Belfast on 8 April and concluded on Wednesday evening in Galbally in East Tyrone. In between times myself, and a large pool of party leadership figures, criss-crossed the North and into County Cavan. Meetings were held in Upper Bann, Hilltown in County Down, South Derry, Strabane, and Silverbridge in South Armagh.
We also met with relatives of the republican patriot dead and with the families of victims of state violence and collusion, as well as with the local party leadership.
It was an intensive and exhausting process of engagement, in which we answered many questions from the public, and listened attentively to the concerns that were raised. In my view it was an enormously worthwhile process.
At each meeting we had a panel, in some cases of up to ten people, with the experience and expertise necessary to give considered responses. Each public event lasted between one-and-half and two hours and in that time a huge amount of information was provided for the audience to digest.
The meetings arose out of a commitment I gave last year, when we were travelling around the North debating the policing issue in advance of our special Ard Fheis. At that time I promised that we would return a year later to give an account of our stewardship of the process and of policing.  
All of the meetings were, without exception, very good. The meetings with the relatives of victims of the conflict were at times very emotional as they relived the loss of loved ones and expressed their anger and frustration at obstructions to truth erected by the British Government. Many of them raised specific concerns around funding for victims supports groups, the failure to progress the Victims and Survivors Commission, and the major issue of truth.
A large number of those families who attended the meetings had lost loved ones as a result of collusion. They are very angry at the failure of the British Government to acknowledge its role, and that of its military apparatus, in the killing of citizens through collusion with unionist death squads. There was also considerable and justifiable criticism of the PSNI Chief Constable Hugh Orde's deliberate blockage of some inquests.
The main public meetings attracted hundreds of interested citizens. The range of questions asked, the advice, criticism and comments which some participants made and the debates that took place, covered a wide variety of issues.
Some wanted to know how things would now develop in light of Ian Paisley's retirement and Peter Robinson's imminent elevation as DUP party leader and First Minister. The demise of Tony Blair and the pending change in the leadership of Fianna Fáil were also commented on. Others raised issues like water charges; the state of local roads; the transfer of policing and justice powers; academic selection; Acht na Gaeilge; economic investment, particularly in areas that have traditionally suffered from discrimination and disadvantage; and community safety.
We were also asked whether the peace process and the restoration of the political institutions have succeeded in advancing the republican democratic objective of ending partition and Irish reunification.
I told all our audiences that Sinn Féin's strategy and our primary objective is not just about achieving a united Ireland – it is also about the kind of Ireland that will be. We want a Republic, based on the Proclamation; the mission statement of modern Irish republicanism. A Republic that meets the needs of the Irish people in the 21st century. Sinn Féin doesn't want to simply change flags. The Republic we want is one in which the people are sovereign, in which citizens have rights and entitlements, including the right to equality.
But the most important and interesting part of this whole exercise of public meetings for me is that I came away from each with a very real sense that people are committed to this process – they want it to work. That whatever the difficulties many nationalists and republicans may have with policing that on this issue too they want it to work.
The nine 'Townhall' meetings were an exhausting round of private and public meetings but they have provided Sinn Féin locally and nationally with much to think about and lots of work to do in the time ahead.
I believe that this exercise should now be replicated across local areas. We should bring these types of meetings into local housing estates and villages, into local communities. In this way we can explain our republicanism; better understand the priorities of those communities; build alliances on campaigning issues and empower people. There is no reason why we can't work up a process in which senior party figures travel this island communicating the benefits of modern republicanism.
With this round of 'Townhall' meetings now over I will be concentrating in the weeks ahead on the Lisbon Treaty referendum in the South. But it is the party's intention to do a similar series of 'Townhall' meetings in the 26 Counties later in the year.