24 April 2008 Edition
Planning for people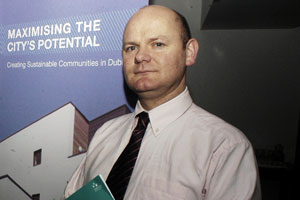 TULLAMORE, County Offaly was the venue last week as Sinn Féin councillors from across the country came together to discuss an issue that almost every elected representative will have doubtless spent countless hours deliberating over – planning. The seminar in Tullamore, organised by Sinn Féin's National Councillor's Forum (NCF) on Saturday 19 April was held to develop the Sinn Féin planning policy in conjunction with the party's Policy Department.
Dublin City Councillor Daithí Doolan and Chair of the NCF said the objective was to develop shared thinking and knowledge on the issue.
"Planning is a hugely important issue for nearly everybody in Ireland. We have all come across bad planning in our areas. Poor planning will deny families and communities proper housing, proper leisure facilities, public services, schools and a decent environment. It destroys communities. Sinn Féin believes that proper planning based on vision and people's rights will ensure that those same communities and future generations will benefit from a better quality of life and a better future", Doolan said.
RIGHTS-BASED APPROACH
It was on the basis of developing a rights-based approach to planning policy that the elected and non-elected activists' discussions took place with a commitment to improve the quality of life for all those affected by planning mistakes made in the past. One of the discussions that centred on these planning mistakes was the corruption endemic in local government politics in the past, where making a quick-buck from developers won out to maintaining the highest standards of ethics in public office. The republican approach to planning however is based on the belief of total opposition to corrupt planning practices with a belief that any breach should be punishable by stringently enforced laws and an ability to dismiss those who are guilty of corruption from office.
As well as this, Sinn Féin believes that building an Ireland of equals means that people have a democratic right to participate in decisions affecting them – both directly and through their elected representatives. An efficient empowered system of local government therefore requires structures and processes that encourage and promote community participation in planning and related decision making from the outset, not just at the end of the process.
This is something central to Sinn Féin activists when formulating a vision for future planning and the Policy Department is calling for submissions from all party activists on planning related issues in order to be as inclusive as possible in the policy making process.
REGULATION
Part of the discussion between those at the seminar centred on the practicalities of how the communities could participate effectively in the planning process. Currently Sinn Féin policy states that the elected activists must abide by the decisions made by local communities with regard to planning, and it was suggested at the seminar that perhaps developing a 'Charter for Participation' would be an option to look at as mandatory adherence in every situation could possibly be too restrictive for elected activists.
There was also much debate around the right of the state to regulate planning and consensus was reached at the seminar that not only the state but local government should also have the right to regulate. One area where consensus was not reached so easily was on that of the ideal length of development plans, with Councillor Brian Stanley advocating that the current six-year cycle in the 26 Counties be retained as "they transcend the period for which councillors are elected." Current party policy states that 10-year development plan cycles are advocated with three reviews within that cycle.