17 April 2008 Edition
Post office closures lacking 'commonsense'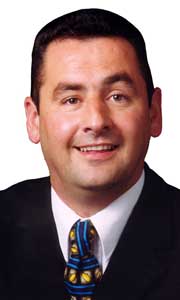 THE programme of post office network cuts across the North lacks commonsense, Sinn Féin's Willie Clarke said. He was speaking after discussions with postmasters and postmistresses across the North who said that cuts were not based on numbers using local post offices but by "a scatter-gun approach" based on geography.
"This means that the proposals threaten some of our busiest and most successful post offices, where their numbers demonstrate their importance to the local community.
"The fact is that we also have a very low density of post office service provision with something like just 3.5 per cent of the total network in the North.
"These proposed cuts are also likely to be a precursor to much more far-reaching cuts in 2011 when the provision of the mobile or shared option currently being put on the table by Royal Mail also comes to an end.
"It is time for our politicians to come together to look at how we can guarantee long-term retention of the post office network, particularly in rural areas and poorer urban areas where fewer people have easy access to bank accounts."