17 April 2008 Edition
Ruane addresses all-Ireland conference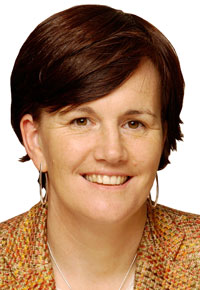 Around 400 delegates attended a special all-Ireland conference on autism in education at Dublin's Croke Park on Tuesday, 15 April.
Sinn Féin Minister for Education in the Six Counties, Caitríona Ruane MLA addressed the conference, which was officially opened by 26 County Minister for Education and Science, Mary Hanafin TD. The conference, 'Education through the Spectrum' was attended by experts and professionals as well as parents' representatives.
 Ruane highlighted the work under way in the North to improve the educational provision for children with special education needs.
"All children must be given the opportunity to access a quality education that meets their individual needs. The collaborative work that is going on between the two education departments has shown real successes and benefited children across this island. This conference is a unique opportunity for us to focus specifically on autism and learn from acknowledged experts. Together we can make a difference to the lives of many children", Ruane said.
She said that  a further example of co-operation is the Middletown Centre for Autism project, a joint initiative between her own department and the 26 County Department of Education and Science. It aims to support the promotion of excellence in the development and harmonisation of education and allied services to children and young people with autistic spectrum disorders. Officials from both departments continue to work closely to progress the development of the Middletown Centre for Autism.
Caitríona Ruane noted the increase in identified cases of children with ASD.
"We have seen an increase in the number of children identified as having autism, with around 3,200 now known. One thing we are clear about is that any intervention is centred on the needs of the individual child after considering a range of possible treatments. I recognise and commend the work done in the autism units in mainstream schools and the intensive care offered by our special needs schools", she said.