17 April 2008 Edition
Adams to meet PSNI Chief over policing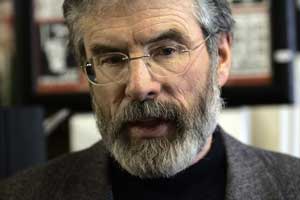 A TOP-LEVEL Sinn Fein delegation, led by Gerry Adams MP MLA, are due to meet PSNI Chief Constable Hugh Orde and a delegation of his senior officers on Friday morning, 18 April, about policing.
The meeting is part of the process of critical engagement which began last year when Sinn Féin agreed to engage with the policing structures.
Ahead of the meeting, Gerry Adams said:
"The recent series of brutal murders in west Belfast as well as in Dungannon and County Down and other serious crime demonstrate the urgent need for effective policing to tackle criminal and anti-social elements.
"The concern about public and community safety and how the PSNI is dealing with these issues is at the top of our agenda for the discussions with Mr Orde and his colleagues.
"Our meeting on Friday morning will provide an opportunity to discuss these matters in the context of the wider policing issues which meet the needs of local communities. We want to address these issues and deliver effective policing.
"The PSNI's strategy for engaging with local communities is key to this.
"I welcome genuine attempts to move the PSNI into a new policing dispensation and it is important to acknowledge that progress has been made.
"Sinn Féin is committed to ensuring that the PSNI is a publicly accountable police service capable of meeting the needs of local communities."
Gerry Adams and party colleagues from West Belfast will also be meeting with Hugh Orde in the coming weeks to discuss the specific situation in west Belfast and the PSNI's response to crime and policing there.
The policing agenda

THE Sinn Féin meeting with PSNI Chief Constable Hugh Orde this week will cover a wide range of matters including:-
•    The crucial issue of the transfer of policing and justice powers;
•    Public and community safety issues, specifically tackling criminal and anti-social activity;
•    The PSNI's strategy of engaging with local communities, in particular republican and nationalist communities;
•    PSNI response times and investigative processes;
•    Accountability issues;
•    Legacy matters, including inquests;
•    And delivering a policing service for communities.