10 April 2008 Edition
Fógraí bháis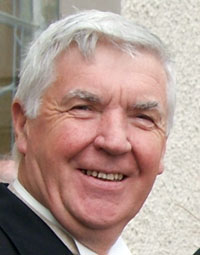 Pádraig Ó Gruagáin
THE recent untimely and sudden death of well-known Tyrone republican Paddy Grogan shook his own community in Carrickmore and surrounding areas to the foundation.
While he was first and foremost a proud, principled republican, his activities and aspirations encompassed many aspects of Irish life.
He was a noted historian as well as a teacher and exponent of Irish traditional music. He was an avid supporter of all Gaelic games, having won senior football championship medals with his club, St Colmcille's, in the 1960s, and was a founding member of Carrickmore Handball Club.
His love of the Irish language led him to visit the Donegal Gaeltacht for many years and he loved nothing better than to use his native language.
He was deeply involved in all aspects of community life in Carrickmore and gave much of his time and energy to his native area which he loved so much.
But it is as an unbending republican that many will primarily remember Paddy.
From the earliest days of the most recent phase of the republican struggle, he became deeply involved in all aspects of that effort. From being a founding and active member of the Tyrone Prisoners' Dependants' Fund he went on to play an enthusiastic part in republican activities, right throughout some of the darkest days in that period.
Paddy's door was always open to anyone in need of advice, help or shelter, and this almost inevitably led to numerous house searches and much harassment on the roads, as well as his arrest and interrogation on a number of occasions. Not to be put off, this treatment only served to consolidate his determination to pursue what he envisaged as the only real solution to the national question and he continued to play whatever role he could to ensure the achievement of this goal.
From acting as 'Fear a' Tí' at National Graves and Sinn Féin functions, to his invaluable electoral contributions, he will be sadly missed by very many republicans.
To his wife, Kathleen, his sons, Fergal, Finbarr and Seán, his daughters, Patricia, Cathy, Máire and Bríd, as well as his brothers and sisters and wider family circle, we extend our heartfelt sympathy.
Muire na Gael gúigh air.